Client Testimonials
Dog Daycare Reviews
"Here is a VERY amateur video of Swiper last Thursday morning right before leaving the house to go to Misty Pines! We go through this every single week . . . Swiper just loves going to "doggie daycare" and that's all we have to say to get him going!"
- Lisa (Click here to see Swiper in action)
---
Private Dog Training Reviews
The Fire Family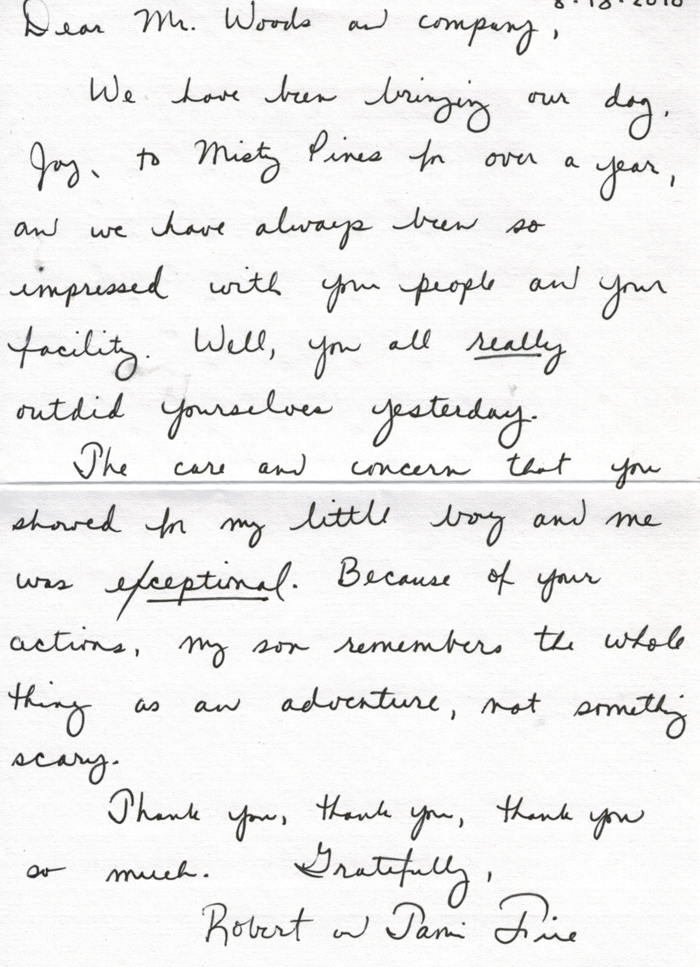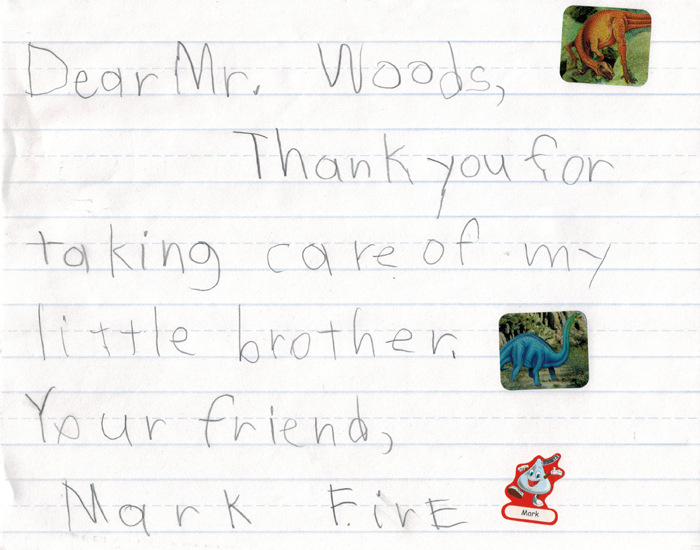 **Tim had been bitten while in the park and was brought inside to get cleaned up. Jeff helped clean up Timothy, all the while taking the focus away from the bite and the pain and focusing on things Timothy enjoyed. The wound was minor but the boy was scared and Jeff took control of the situation and helped Timothy through a scary situation.
---
Maggie and I thank you for helping us with Border Terrorist (not anymore!), Earl and puppy Zoe. Maggie and I did several sessions in our front yard, as well as a few walks and things just got better and better. Here's a picture of the two lovebirds resting together after about an hour of real play. Again thank you for your help AND the Gentle Leader! (It sure is more fun to walk him with the GL on rather than the "let's pull Mom down the street" collar)
- Susie and Maggie Kopf
---
"Thanks for your personal visit last weekend to help us with training our dog. We thought she was hyper, wouldn't listen and was pretty much running our house. You showed us a totally different personality to our dog, she's very submissive and loving and really wants to please us. We were just not reinforcing our commands, and letting her have the upper hand. Now she is a different dog! She patiently waits for her release and is calmer in the house and outside. We definitely learned so much for your home visit. It was so much easier with one on one in her own environment. Thanks a million for all your advice, it saved us a lot of aggravation!"
- Sincerely, Marty and Bernie
---
I can't begin to thank you enough for what you've done with Molson. I'm soooo impressed.
It's been one week that he's been home and he's doing great.
I go through his commands with him all day long and he's responding close to 100% of the time.
Also just for he record, when he does test me, I'm consistent 100% and I'm not treating him like a baby. I must admit is sure makes my life easier.
So, thank you again, I really appreciate your sincere concern and dedication.
- Charlene
---
Just wanted to thank you again for your patience and expertise with Sophie. It's true, she's a different dog, now that I've learned the mistakes I was making. I really believe, NOW, that there are no bad dogs, just "untrained" owners. I don't know how you do it, but I'm glad I found Misty Pines! Thanks again, from Sophie and I, and a big God Bless!!!
- Deacon
---
Dog Park Reviews
Shari Caruso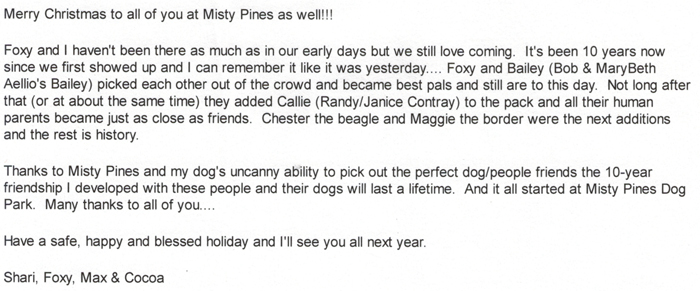 ---
"I love the cleanliness of the facility and friendliness of the staff"..."My dog loves the park and pond -- a wonderful exercise option."
- Janelle
---
Even though the weather turned to what should probably be natural for this time of year, we considered our first Yorkie Meet and Greet a TOTAL success. A major contributing factor was your terrific facility. A number of our people simply could not make it due to the weather and the distance they had to travel but those of us who were able to be there were thrilled that it all took place. Misty Pines is just wonderful. You have a place to be proud of and we wanted you to know how much we loved it.
- Kathi, Donna, Todd
---
Dog Boarding Reviews
Kathleen Sullivan with Corsair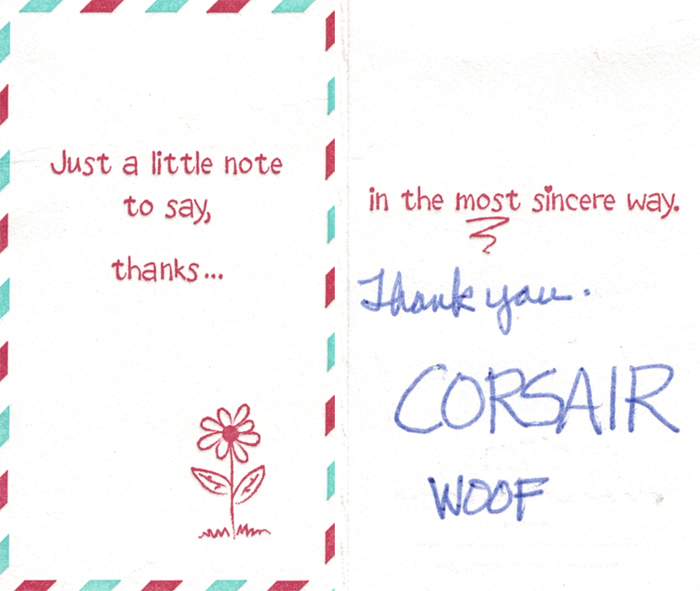 ---
Claudia Gallant with Tasha and Sophie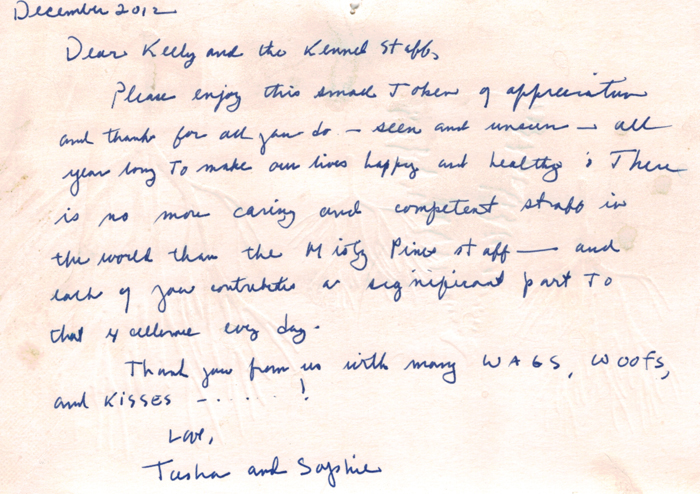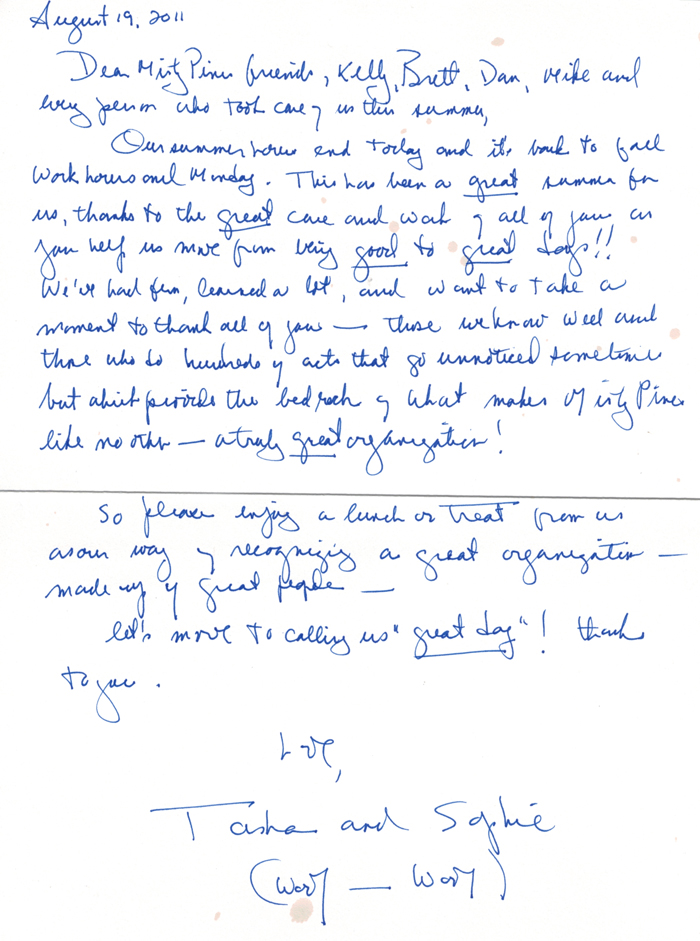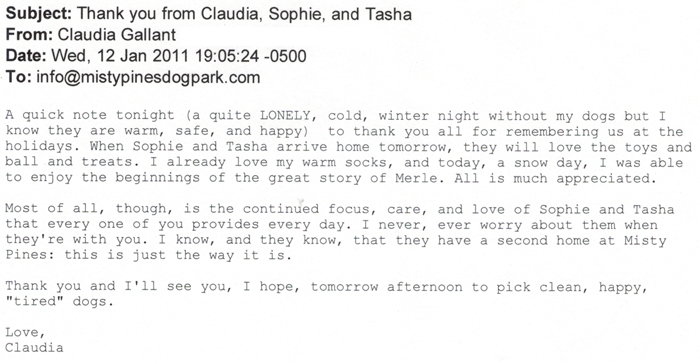 ---
Bill Merriman with William (via his wife Mary Ann after his passing in 2011)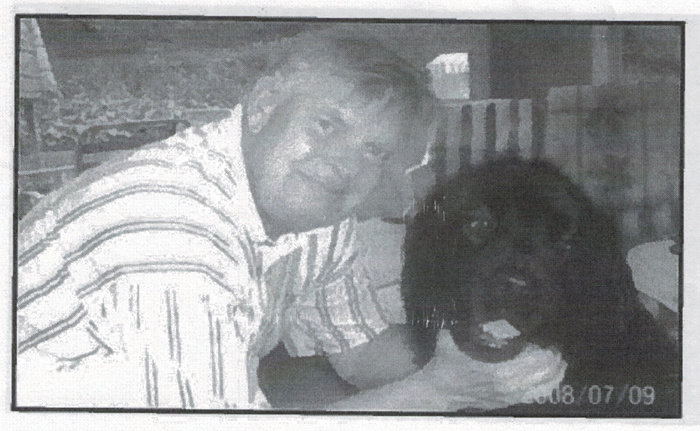 ---
Gary and Maijah Ferrero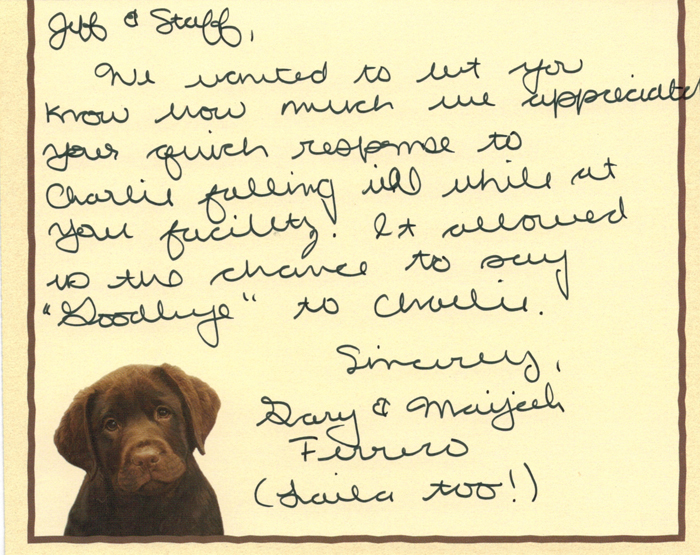 ** Explanation: While boarding with us, Charlie, fell ill due to a degenerative disease and our staff caught on quickly and let the owners know. They were able to get back to Pittsburgh in time to say "Goodbye" to Charlie before he passed away at the hospital. Charlie was a great dog and will be greatly missed.
---
Dear Jeff,
I would like to tell you about the very nice experience I had this morning with Amy regarding my dogs, Maggy and Molly. I was quite nervous about their stay in a kennel for the upcoming two weeks since Maggy is so young and has never been in a kennel or away from us.
As I checked them in, I asked to speak to a trainer because I wanted to arrange some training sessions for Maggy while I was gone, and the receptionist brought me Amy. Amy was very patient with me and carefully went over all of the options I could choose. This was important to me because of my dogs and because of the cost involved. Amy did a great job explaining everything thoroughly and reassuring me, and I thought you would like to know.
I arranged training for Maggy for jumping and pulling on the leash (10 15 minute sessions) in addition to 7 playtime sessions every other day. Maggy is pretty good at sit/stay/down and my own invention of "wait" which I use at times when I open the tailgate of my car or open/close the garage door.
For Molly, I arranged 7 walks (15 minutes every other day.)
Because of Amy, I feel reassured, and I want to thank you and let you know that I was very pleased with the professional attention and service given to me by Amy. I also want to thank the receptionist who made a special effort to get Amy since the other trainers were all in training sessions.
With kind regards,
- Karen
---
Thank you so much for taking good care of our kids, Sam and Siena! We sincerely appreciate it.
- Thom and Marylynn
---
We've only had to kennel our 2 large dogs once and it was a hard experience for us (not the dogs!). The staff was very caring and patient with us. They did everything we asked to make sure our babies were happy. They didn't seem to mind my check-up calls thru the week. If I ever need to kennel the dogs again, I will return to Misty Pines!
- Heather D.
via ~ www.zootoo.com
---
Thank for taking such good care of Jack - not just today - but also while he was boarding with you! He's never looked better than when he's had a visit to "Jeff." I really appreciate your business integrity and your basic love for the animals that we neurotic owners entrust to you!
- Jan
---
Dear Mr. Woods, Thank you for watching Clancy for us! I hope you had a nice time with Clancy! I was hoping that Clancy was good for you!! She is never really good! Well at least I had a good vacation! Love,
- Rich, Fran, Chancy and ME (Alison) Jewell (5)
---
We left our dog Gunnar with you for three days in late July. I just wanted you to know that he had a wonderful time! He looked great when my parents picked him up. He was very happy. Thank you for your wonderful care of Gunnar. He is very special to us. We will recommend you to all of our friends.
- Gail
---
Thank you for a year full of fun and good care. We never trusted any kennel before for any of our animals. We always felt better having friends take care of them at our house. Now however; we are more relaxed during our travels knowing they are in good hands with all of you. also, thanks to your classes we have the best trained dog we've ever had. Everybody in Jim's building at *** is always amazed at her obedience and calmness, especially when she obeys! So thank you all and God's blessing to all of you.
- Laura and Jim
---
Just thought of you and your special way of working with canines. I was just petting Ginger (our 10+ year old Chocolate Lab), and thinking how wonderful she is doing, and how she continues to give her unmatched love and affection. Her knack for learning, and her love of retrieving continues full speed. She amazes me with how fast she runs.
Three legs don't prevent Ginger from doing the things she really enjoys, and her quality of life is honestly good. no, she can't jump up and into the back of our station wagon, and she is careful on stairs. She does, however, truly love to travel and to simply "hang out" in her yard. Her eating habits haven't changed a bit. She's still like "Mikey" in that she eats almost anything! We have cut back a little (very little) on the amount we feed her just to make sure that she doesn't gain weight. She gets us up before the sun comes up for her breakfast. Revenge for getting just two level cups of food in the morning instead of the heaping cup measure?
Jeff, I just want you to know how well Ginger is doing. lois and I have not boarded her since the amputation of her back right leg to remove it's malignant cancers. we talk with some real seriousness about driving to Misty Pines should lodging of Ginger become necessary. Misty Pines is a Five-Star Doggie Hotel where Ginger truly loves to stay.
Thank you very much for being the kind of friend to canines as canines are to people.
- Russ
Dog Training Reviews
Ann Schleicher with Bayou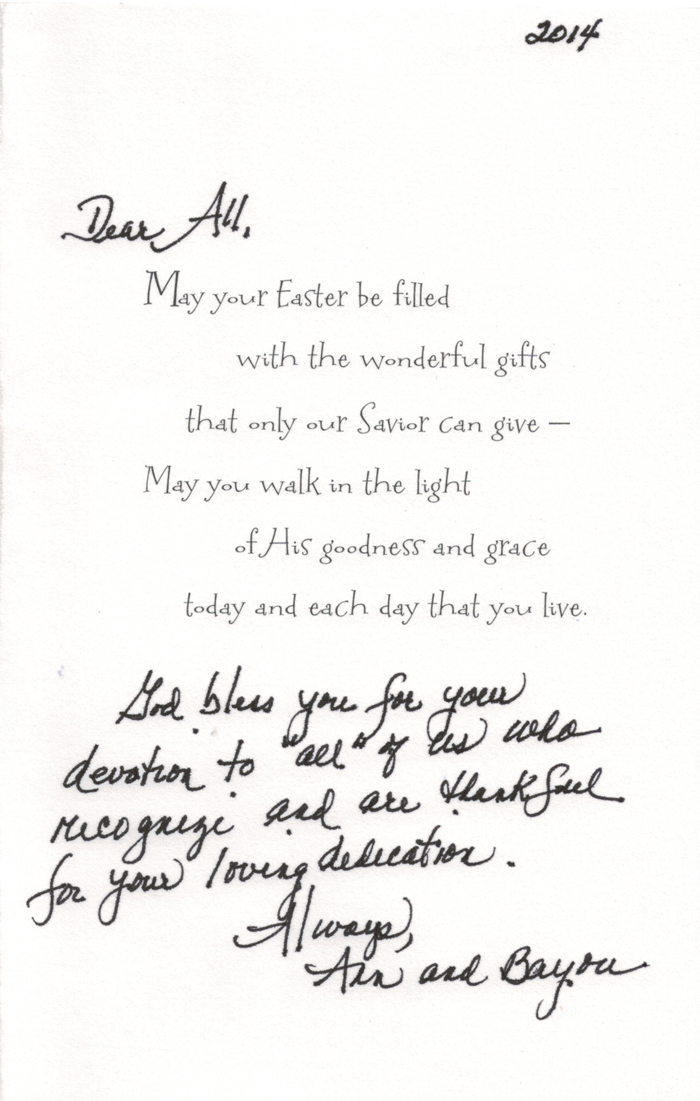 ---
Owen had his first walk thru at an assisted living community yesterday.
Several people wanted him to hive them his paw. And i never taught him that?!...lol One resident wants to teach owen. I will do homework and have owen practice this trick.
You gotta let Brett and Dan know to give a helpful hint to therapy dogs in training...teach them to give paw..lol
Owen did great...like he knew he was there as a therapy dog...he was excited but he listened to all his commands, etc.
And one resident that never took an interest in the dogs, took an interest in owen. He is the resident that wants to teach owen to give his paw!
It was a great first experience for Owen.
- Kelly geanous & owen
---
Congratulations on your new facility opening. We wanted to say hi and we have not forgotten about you. We will be back to obedience classes again in the fall after we slow down our agility events a little. Shiloh is still having a lot of fun running as fast as she can. Brio and Nancy are proud to have now earned Brio's Open Jumpers title. Brio is now running the Excellent JWW level and has started running the Novice Standard Course as he has now mastered the teter.
- Nancy, Shiloh and Brio
---
Jeff its been many years since you worked with me and my very first Labrador back in 1988, times have changed as your price was $25.00 per hour and I was barely able to afford that! Well, let me just say that you and your methods of training have stayed with me throughout the years and I am now a full time retriever trainer in central California and have not stopped training since your days of taking me and Belle back in behind your place to work with the E-collar and work with birds.
What stuck with me more than anything was your ability to read into the dogs psyches and then approach with the proper response to make the corrections. The few lessons that you gave me have stayed with me and are actually the cornerstone of how I train dogs and teach my clients and students. I was talking to a student and she asked me how I learned the methods that I use and your name came up as when you understand why a dog is doing something its easier to know how to change its behavior. I remember your picture of the wolf pack on the wall and how you broke down how each pack member was behaving and how similar our dogs behaviors were to this.
Your teachings have helped me to live the dream of working with dogs and dog people and being a successful retriever dog trainer and professional hunt test handler and for that I say thank you Jeff.
I was very fortunate to have gone to you so many years ago. If you ever get a chance, take a look at our website at www.Bluecollarretrievers.com.
PS. Belle went on to a very successful career as a family, hunting, and competition dog in the NAHRA. She was the dog who ran so hard she drove a stick right through her webbing. I wonder if you remember her.
- Bill
---
Although we have not been there recently for any training sessions because of the heat, we cannot thank you enough for all that you have taught us. Seeing that Crocket gets her daily exercise without overheating has been a real treat since we learned how to use the treadmill! While we think that she is an amazing puppy, we owe a majority of her behavior to the folks at Misty Pines!
- Rich & Tammy
---
It is widely recognized that Misty Pines is the area market leader for dog training. In our family, Misty Pines is most appreciated for the quality experiences our son has enjoyed the past two years including Kids Dog Training Camp and Kids and Family Dog Training Classes.
Our son likes the Kids Dog Training Camp because it is "lots of fun"! We like it because of the strong, individual leadership skills the Camp promotes through the method of dog training.
The finer points of leadership such as commanding respect as opposed to demanding it are effectively taught by the well-educated staff.
While connecting with nature in the beautiful 25 acre oasis, children experience the best a classic, American childhood has to offer.
- Peter and Alexis
---
Thanks for the great opportunity to expose Truly to kids and distractions. I also was very impressed with Owen's connection with Rocket. He knew to keep his hand folded to his chest to attract Rocket's attention. And he was patient and persistent when Rocket didn't immediately do what he wanted. Ben was also great for the few minutes with Truly.
Your continuing passion and patience for owners becoming good dog handlers was evident again today. So proud to say I am a "Misty Pines Devotee!"
Heartfelt appreciation,
- Jan
---
Thank you for the significant part you played in (Denali's) life, training and care.
With his traumatic background as a stray, male husky, he was a very challenging (but intelligent) dog to train. You helped us so much by providing a safe place for him to play and develop the skills that allowed him to give back to the community as a pet therapy dog for many years. We are grateful.
- Heather and Dan; Rubi, Holly and new girl Sprite
---
Myself and my boyfriend were looking at your website for puppy training classes for our new puppy Cooper when we came across the testimonial page. We couldn't help but also want to share our experiences at Misty Pines with others through our "testimony". Unfortunately, we are sadden to share that our 9 month old puppy, Bennett, passed away about a month and a half ago. Bennett was a Beagle Boston Terrier and he was full of life! He was our first dog together and we did so much wrong in attempting to train him. We attended a couple of the puppy training classes at Misty Pines and not only did we learn so much, we had the time of our lives with Bennett in the classes. We were so proud when we were able to drop the leash using the sit and stay command and he actually did so in a room full of other dogs. This is something we NEVER thought would happen. We were so proud to watch him follow commands from the trainer as he used him as an example for the rest of the class. After being scared to death of the playground equipment, we were so proud when he finally was able to climb up the ladders and walkways. We had so much fun with Bennett at your dog park and he met so many new friends down at the dog pond! We again were proud when he jumped off the dock and swam with the big Golden retrievers and Labrador retrievers like he was one of them. Without the services of your training classes and your park, I am not sure that he would have had so many great memories of Bennett. We will always remember Misty Pines when we think of Bennett. Now we have a new puppy, Cooper who is a Beagle Boxer mix and we are so excited to come back to Misty Pines for the classes and for him to play. We can only imagine the memories that we will get to have with Cooper at your park!
- Kristin Birkholz, Toby Butler and Bennett
---
I have been using this facility for about 15 years. I have used it for obedience training but most of all for field dog training. When I first went there I was very impressed at how clean it was. All the staff are very helpful and professional.
- Joy
via ~ www.zootoo.com
---
I just wanted to let you know how very much I enjoyed the Puppy orientation on Wednesday. It was very informative and fun for my puppy, Shiva I look forward to the Puppy Classes
- Becky
---
I would like to say that I was very impressed with your facility how the classes are conducted. but more importantly, it seemed to me that my dog as well as all of the other dogs of those at Orientation are a priority. I look forward to brining my dog to class.
Many things that you discussed made me feel that I was doing things well with my new addition. it has been 10 years since having a puppy in the house and one "forgets" some of the puppy issues.
My recently departed dog and I had a terrible experience with a so called "expert" in dog training and I was very gun shy about bringing my new puppy to a training facility.
Thank you for a very positive enlightening evening and I look forward to bringing my puppy to class.
- Debbie and Ryker
---
Misha's doing great with her training. She's really a different dog with the collar on. Had a tow truck come for our car and a dog walk by at the same time and she didn't move from her stay! Great distractions!
- Judy ('92)
---
We went to the Orientation class Wednesday and can not wait until we can bring Ginger in for training on a Saturday! Please add us to your e-mail list, we hope to stay on top of your scheduled classes. We are seriously considering the dig's training sessions, because we think the kids need more training than Ginger;-)
Jeff's presentation was great. It was amazing to see such a variety of "un-trained" dogs do as well as they did just for an orientation session.
- The Hayes'
---
I just wanted to tell you that Bill and I were at the nuisance class yesterday and already we are seeing the benefits of it. Isabella is really starting to listen to us! I can't believe it! We're extremely pleased with the class! Thanks again-now I understand that training is not only for the dogs, but for the dog's owners as well.
- Stephanie
---
I attended the orientation last night and again enjoyed it. I didn't realize how much I had forgotten since I had attended with Blanche. Cordelia and I look forward to the puppy classes and socializing with the other dogs and your staff members. I think you run a great facility and once again look forward to our visits.
- Caryn
---
We want to thank you for your support, limitless patience and guidance with Chief this year. You all know I asked a thousand question and I will in the future. We thank you for your understanding.
- Randy, Sue, Chief and Chubs
---
It's been so much fun these past few weeks being involved in the many programs here at Misty pines. your dedication to pets is evident in everything you do, even in the appearance of the grounds. And the way you reach out to the owners through the website and the information in the classes is helpful and welcome.
This is now my third "generation" of dogs with Misty Pines. I will always be thankful for the way you cared for Bailey in her elder years, especially, and I look forward to raising my new friend to be "Truly" The world's best dog!
- Jan
---
Thank you so much for all the help. Without your guidance and faith, my confidence never would have been at a level high enough to train Oola. And this whole incident pointed out that whatever is going on in the trainer's head determines whether the dog succeeds or fails to be trained.
- Sherry
---
I wanted to take this time to thank all of your for everything you do. not only for the dogs, but for the dog parents.
I have learned so much through all of you. When I got the dogs last year, I basically had no clue what to do with a dog. I have learned so much from Misty Pines, and I feel much more comfortable being a doggie mommy. I know there is still a lot to learn, but I'm not terrified anymore.
Mel has been a wonderful dog, and is so great at his volunteer work. The folks at the nursing home love him, as well as the children who read to him (he is a good listener). And at 9 years old, he shows that older dogs can learn
And Tessie has come such a long way this year! I credit it to you. All of you have been so great with her, and have made it a point to help with her socialization. When she goes up to someone, or allows someone to per her, I am so grateful to your continued efforts. (I still have hope that Tessie will someday advance beyond the Starter class, if little-miss-energy can stay put long enough for a 3 minute down stay. And pass a therapy dog test so she can go to nursing homes as well.)
I also want to thank you for all of the socials you put on for dogs and owners. I love doing things with my dogs, so I appreciate the opportunities you provide.
And I never worry about leaving the dogs in the kennel. I think they both like it (and it gives them a break from school and work and other things I make them do).
We are going to miss all of you so much when we move. But we're ready for the next phase of our life, when we adopt a couple of kids. I think both dogs will enjoy having children in the house to play with. And the new house has a big yard and an in-ground pool. I'll be curious if the dogs will go swimming next summer.
I still have family out here, so when we come to visit, we'll stop by for class. (And I'll bring you some good stuff from Philly.)
All our love,
- Cheryl, Mel, and Tessie
---
Dog Boot Camp Reviews
"I want to thank you and your staff for helping to get Cleo back in shape...She now weighs 95 pounds. THAT'S RIGHT 95 POUNDS! This could not of happened with out the help and care that your staff provided. They not only worked with her to lose the weight but the training they provided was priceless."
- Pat and Brigitte Joyce, Owners of the 17th Street Cafe
(P.S. She IS "Howling With Success")
---
We can't ever thank you enough for setting us on the path to saving our little pups. Things have been progressing well at home. Baci is doing terrific. Bailey is progressing as well but at a much slower pace. We know it is going to take time and patience. We are fully committed. Thanks again for all your did for our family. Your truly work magic. We hope to see you all very soon.
- Jeff and Gina
---
...as a client, I've experienced the results of all of you being resolutely clear about what you do and why you're successful, what you're passionate about and how you deliver on the promise. Kudos to every member of the team....
- Claudia
Intense In-School Training with Tasha(blab)
Read the rest of Claudia's letter to Misty Pines here.
---
Community Outreaches and Charity
On behalf of everyone at the Washington Area Humane Society and all of the homeless animals at the shelter, we would like to express our gratitude and to thank you for the kind and generous donation of $300.00 for our animals here at the shelter. Words cannot express our appreciation for the wonderful gift you have given us. All of our staff, volunteers, and board of directors and the animals here at the shelter are overwhelmed by your thoughtfulness.
We commend you for your compassionate nature and in sharing with us your wonderful contribution to our animals. It is refreshing to see people being involved in such a worthwhile cause and helping us take one more step towards our goal; saving all neglected abused and unwanted animals in Washington County.
- Washington Area Humane Society and all of our furry friends
---
On behalf of the entire Animal Friends organization, I would like to thank you for your participation in Animal Friends' 10th Annual Bow Wow Bingo on May 14th, 2011. We appreciate your support of our mission and this very unique way that you have chosen to help us.
We had a wonderful time, and hope that you did too. As a result of the evening, we raised over $41,000 for the homeless animals here at Animal Friends.
- Michelle A Bartlett - Animal Friends Board Member and Bow Wow Bingo Events Chair
---
Thanks so much for arranging our "Pets" badge workshop! The girls LOVED it! They had a terrific time, and they learned a lot. I really appreciate all of your time and efforts on behalf of the girls - we all had a lovely afternoon!
- Suzanne - Troop 1552
---
Part of Dave's success is currently in the making. Thanks to Dave's wife Stephanie, they were able to learn about a nonprofit company known as Freedom Guide Dogs. In fact, it was thanks to Jeff Woods the Founder and President of Misty Pines Pet Company of Sewickley where the Stemmerich's were made aware of the services of Freedom Guide Dogs. It was at Misty Pines Pet Company in Sewickley where "Sarge" the family's young German Short Hair Pointer, received his initial obedience training to prepare Sarge for his service dog training.
- Excerpt from "Sarge" – A Local Veteran's Lifeline by Brad Rapp
---
It is a pleasure to acknowledge and thank you for your support of the Western Pennsylvania Humane Society. The event you held on Saturday, December 11, 2004 raised $1,710.00. Our long history as a front-runner in the field of animal protection has been made possible by the support of friends like you.
On behalf of the Western Pennsylvania Humane Society Board of Directors, staff and volunteers, we appreciate your contribution. Again, thank you for your support of our organization and the work we do for animals.
- Rebecca
---
The Marshall Township Recreation and Parks Committee wishes to thank you for your help on "pet day." It was a great experience for the children to be able to work along with the adults in learning how to train their dogs. They learned that even though they are young they can control their pets. With hope, they will be more responsible for their pet's behavior. They surely found out that training can make their pets more fun.
- Alice, Barn Program
---
Things have been very hectic at Angel Ridge since we all enjoyed Cafe Down Stay. Many new dogs have joined us and, fortunately, our adoptions have been good. The funds that you raised for us have been put to good use for vet bills and medicine. This event was an incredible gesture. All of you are truly angels to the animals. Thanks you all and God bless you.
- Angel Ridge
---
Dog Training Seminar Reviews
Thank you for putting on such a nice seminar for our GSP club. I just wanted to personally thank you for your time and energy. I believe a trained dog is a good dog whatever type of work you may do with your dog, and you give many good tips and insights into that philosophy, you attitude and patience with all the members was outstanding and should be commended.
- Cathey,
Chairman of GSPC of Ohio
---
I want to personally extend my heartfelt gratitude for participating in my 1st Annual Sportsmen's Expo on Saturday, June 28, 2003. It was a complete success due to your cooperation and service provided to those in attendance. The estimated figure of attendees was approximately 500. I was very pleased considering it was the first one.
- Jane C. Orie, State Senator
---
Customer Dog Stories
This past Sunday night about 10:45 p.m., my husband and I were watching TV in the bedroom with our two Cavaliers, Mikey and Abby, sound asleep on their pillow in the bed with us, as usual. All of a sudden, Mikey got up and flew down from the bed, barking like crazy. He was running back and forth in the house, and we thought maybe he had to go out, although it was not his normal "signal" bark to go outside to our fenced-in back yard. My husband let him out, he ran around barking, checking the entire back yard, and came back in. However, he continued to bark, so this time, I took him out. He came right back in. He was extremely agitated, running back an forth, and still barking. Rich decided to take a flashlight and go down into the basement to see if something had fallen over or made a noise. He called to me from downstairs, I went down, and here in the furnace room, the entire flue piping had collapsed onto the floor, and the furnace was venting out into the basement instead of into the chimney. The pipes were all rusted and could not be put back together, so Rich immediately turned the furnace off and we called an emergency number for a plumbing and heating company. Luckily, it was a rare, warm night in the 40's and we were comfortable even without heat that night. The repairman came in the morning, just after I had left for the office. Shortly after, Rich called me on my cell phone to tell me that the repairman said if we had left it like that all night, we would have all been dead in the morning from carbon monoxide poisoning!!! Had it not been for Mikey, we would have never know this dangerous situation existed because we didn't hear the pipes fall -- but apparently, Mikey did. So, this story has a very happy ending -- Our dear Mikey saved our lives!! He is a true hero, and I just wanted to tell you this story because I'm still having trouble believing how close we came to a real tragedy!
- Carol
---