---
October

1


1

8

12

15

19

22

29

Customer Appreication Day

CGC/TDI Prep Class

Agility

Starter Orientation

CGC/TDI Prep Class

Puppy Orientation

Agility

Nuisance Behaviors
Saturday, October 1st, 2016
All Day Event
Misty Pines would like to invite everyone to help us celebrate our 41st anniversary by spending the day with us, having lunch, and raising funds for the Ambridge Borough Police Dog Fund. We will have spectacular raffle baskets sponsored by local businesses, a 50/50 raffle, and other donation opportunities that will benefit local police K9s through the Ambridge Borough Police Dog Fund.
While most cities and boroughs will pay for the dog and training, any day-to-day care will usually come out of the handler's pocket. Even food, safety vests, and health care will not be covered unless the handler provides it. The K-9 community is tight knit, and handlers in different boroughs will often help each other out to provide proper care and tools for their partners. Ambridge Borough has pledged to provide assistance to any K-9 teams in the region that may need it with help from our fundraiser.
Come spend your afternoon with us to see the elite skills of our local police dogs! Ambridge Borough will be organizing a K-9 demo with their handling team at 2:15pm, while the rest of our training schedule will remain the same. The raffle winners will be drawn following the demonstration.
Please come out and join us as we say "Thank You" to all of you who help make Misty Pines such a great place and raise money for a great team that help to keep our community safe.
Schedule
8:00am - 9:00am | CGC/TDI Class
9:15am - 10:00am | Puppy Class
10:15am - 11:00am | Puppy Class and Puppy Preschool
11:15am - 11:45am | Toy Breed
12:00pm - 1:00pm | Level II Class
1:15pm - 2:00 pm | Level III
2:15pm - 3:30pm | Police K9 Demo
3:45pm - 4:30pm | Level I
We have added a Level II class on Wednesdays at 1:00pm. This will be in addition to the Level II class that is held on Saturday afternoon and will follow the same curriculum. If you would like to attend class but either cannot make the Saturday class or would like to have a smaller class size, then this is a great option for you.
Class is from 1:00 - 1:45pm and is $15. This class is only for those that have tested out of Level I.
Our Fall/Winter bobwhite quail release program is advantageous for all our young bird dogs. Dogs are much happier performing their job they were bred for with their master.
The bobwhite quail release program gives bird dog owners the opportunity to work their dogs on six controlled released quail for an hour for $40. During this time the dogs begin to learn how to use their nose to find birds and their owners learn how to interpret their body language and identify when the dog becomes "birdy" and is working a scent cone.
We rely on them to remain uninjured so that their family members can call for them to return to their coupe. Then some of the family (Covey) members can be released again to continue to work for the dogs. There is no shooting; this is nose work only. The bobwhite quail release program runs from August to April.
If you would like to learn the disciplines to train your bird dog up to a Master Hunter level, call us for more details and to schedule an appointment.
Click here for more information on the Bobwhite Quail.
Saturday, October 29th | 8:00 - 9:00 AM
This open forum class focuses on how to correct and inhibit common nuisance behaviors of dogs and how to train the dog for a more desirable behavior. Some of the behaviors we address are pulling on the leash, jumping up, digging, barking, counter surfing, mouthing and play-biting and more. Please join us if you would like help in training your dog to be a better housemate and companion. Classes will be held on the 5th Saturday of each eligible month. Please pre-register.
Congratulations to our trainer, Kelly Grace, and her English Pointer, Cumbrian Solaris CGC, AKA Fable, for winning Best of Breed on Sunday, September 25th at the Butler County Dog Show in Prospect, PA.
This is Fable's 3rd win and gives him one more point towards his Championship. He has a total of 2 American points and 1 Canadian point.
Keep up the good work!
20% Off Small Breed Dog Food
Grain-free and gluten-free nutrition
Balanced protein, fat and calorie levels for smaller dogs
Probiotics to support a healthy digestive system
Contains Glucosamine and Chondroitin for healthy joints
Omega fatty acids for healthy skin and a lush, glossy coat
Antioxidants to help maintain a healthy immune system
Freeze dried raw coating for pure nutrition and great taste
Perfect kibble piece size, ideal for small breed dogs
Available in: 4.4 lb and 12 lb bags.
Instinct is formulated like your dog's instinctive diet – high protein, grain-free, and gluten-free. Each formula is thoughtfully balanced with the wholesome foods your dog would eat in nature, like real animal protein, healthy vegetables and fruits, and no grain or gluten.
Serving your small breed dog a carefully crafted, holistic formula helps provide vibrant health you can see. Feed instinctively – give your dog the nourishment and energy to achieve a healthy, happy life.
Instinct Raw Boost for Small Breed dogs brings you grain-free kibble plus freeze dried raw pieces together in the same bag - the perfect combination of convenience and nutrition to give dogs vibrant health. It's never been easier to provide the pure and wholesome nutrition of raw.
Mutt Mats are a favorite with pet owners from coast to coast. They are constructed of sturdy cotton fabric and quilted to a premium polyester batting. The embroidered Mutt Mats logo patch ensures it's authenticity and each mat comes rolled and tied with a handy travel cord. The entire mat can be machine washed and dried.

Mutt Mats come in Small (18 x 20), Medium (22 x 28), Large (30 x 36), X-Large (36 x 42) and Giant (48 x 54) and are available in a wide range of colors.

Our trainers use Mutt Mats for "place" training as this gives them a clearly defined area as their place. In the article further down titled "Who's at the door, Santa or Satan?" we discuss using a place command to keep your dog on task when visitors come to the door and Mutt Mats and Sherpa Pads are perfect for that application. Mutt Mats ability to be rolled up and handy travel cord give them the flexibility you need to take them with you any where you go, which means you can give your dog a designated spot on demand.

Double sided Sherpa Pads are available in Small (16 x 20), Medium (20 x 30) and Large (23 x 35). They are stain resistant, washable and easily fit into crates or on top of Kuranda beds, which are the elevated beds that we use in our kennels.



---
---
Saturday, October 1st - All Day

CGC/TDI/Service Dog/Public Access Prep Class

Saturday, October 1st @ 8:00 AM

Saturday, October 8th @ 8:00 AM

CGC/TDI/Service Dog/Public Access Prep Class

Saturday, October 15th @ 8:00 AM

Saturday, October 22nd @ 8:00 AM

Saturday, October 29th @ 8:00 AM

CGC/TDI/Service Dog/Public Access Prep Class

Saturday, November 5th @ 8:00 AM

Friday, November 11th, Tests begin at 5:30 PM

Saturday, November 12th @ 8:00 AM

CGC/TDI/Service Dog/Public Access Prep Class

Saturday, November 19th @ 8:00 AM

Saturday, November 26th @ 8:00 AM
Carob is a plant in the pea family (a legume), and is often used today as a substitute for chocolate. The carob plant as we know it today is originated in the Mediterranean over 4,000 years ago. Ancient civilizations like the Egyptians and ancient Greeks highly valued not only sweetness of Carob, but the nutritional benefits the plant bestowed. It was so highly valued, that the word carat comes from measuring a gemstone's weight in comparison to the carob seed.
Records show that carob was intentionally introduced into the United States in 1854, and the first seedlings were apparently planted in California in 1873. For commercial production cultivars with the finest quality fruits are bud grafted on common stock.
Carob grows well anywhere that citrus is grown, and it prefers dry climates that receive more than 30 centimeters of rainfall--ideal mediterranean-type climates.
The fruit of carob is a pod, technically a legume 15 to 30 centimeters in length and fairly thick and broad.
Pods are borne on the old stems of the plant on short flower stalks. Interestingly, most carob trees are monoecious, with individual male and female flowers.
The dark-brown pods are not only edible, but also rich in sucrose (almost 40% plus other sugars) and protein (up to 8%).
Carob contains antioxidants, fiber, and is rich in calcium and phosphorus which helps fight osteoporosis. Benefits of Carob also include gallic acid, which has been used to prevent or treat polio in children. Gallic acid is a tannin, has anti viral, anti fungal, and antibacterial qualities. Carob is rich in vitamin E, which helps stave off influenza. Carob also aids in digestive health, lowers cholesterol, and can help people regulate their body weight. It is non allergenic, gluten-free, does not contain caffeine or theobromine (both found in chocolate), and can be used as a 1:1 replacement for chocolate in recipes. It's important to note that carob does not taste exactly like chocolate–it is typically used because of the brown color, which has an impact on how your food tastes. It can be found in any health food store, and is fairly inexpensive.
Moreover, the pod has vitamin A, B vitamins, and several important minerals. They can be eaten directly by livestock, but we know carob mostly because the pods are ground into a flour that is a cocoa substitute.
Although this product has a slightly different taste than chocolate, it has only one-third the calories (total 1595 calories per pound), is virtually fat-free (chocolate is half fat), is rich in pectin, is nonallergenic, has abundant protein, and has no oxalic acid, which interferes with absorption of calcium.
Consequently, carob flour is widely used in health foods for chocolate-like flavoring.
Apart from the health benefits obtained by subsituting Carob for Cocoa and synthetic sweeteners in our diet, Carob also has excellent nutritional value. Along with up to 80% protien, it contains Magnesium, Calcium, Iron, Phosphorus, Potassium Manganese, Barium, Copper, Nickel and the vitamins A, B, B2, B3, and D. It also has medicinal uses including the treatment of coughs and diarrhoea.
Carob pods are dried or roasted and ground into powder, which is the form it is typically found in–besides carob chips, which often contain additives and oils. Carob has a sweet, slightly bitter, earthy flavor and has been used by cultures around the world for its flavor and healing properties. Locust beans are the seeds of the Carob plant, and locust bean gum is a common food additive as a thickening agent.
Carob has become an important part of the gourmet pet treat industry with many treat makers using it as a coating and ingredient in many of their treats. With Halloween and the holiday season right around the corner we often find it tempting to share our sweet treats with our dogs but instead, get them their own goodies so when you're indulging in some chocolatey goodness and they give you the sad eyes you can stroll over to their cookie jar and get them a safe alternative that they'll love.
Stop in to Misty Pines and find all of our gourmet pet treats from Furrever Friends, Tail Bangers and more.
Information courtesy of: http://www.carobana.com.au & http://www.peacefuldumpling.com.
---
---
"Pressure sores," also called decubital ulcers, are abnormal areas on or under the skin over bony pressure points. They include calluses, which are thickened, wrinkled, hairless areas of skin, and hygromas, which are soft, usually painless, fluid-filled sacs under the skin. Pressure sores are caused by force, friction or trauma to a dog's skin and subcutaneous tissues, usually as a result of lying on hard surfaces, such as cement, for long periods of time. They are especially prevalent in large, heavy breeds. Prolonged pressure on areas where bone and skin are thinly separated reduces blood supply to the area, causing tissue damage. The elbow is frequently affected, although pressure sores can develop on the hips, hocks and sides of the hind legs. These sores can be painful. Dogs often lick relentlessly at pressure sores, which then abscess, ulcerate and become a raw weeping wound.
Causes of Pressure Sores
Pressure sores are almost always caused by chronic trauma to a dog's skin and subcutaneous tissue as a result of lying on hard surfaces for prolonged periods of time. Pressure sores are common in domestic dogs, especially in large, heavy or giant-breed dogs and those that are kenneled on cement floors without soft, well-padded bedding. Long-term pressure on an area of the body where the bone and skin are thinly separated compresses the blood vessels and decreases the blood supply to the area, which in turn causes tissue damage and, ultimately, tissue death (necrosis), calluses and hygromas. The elbow is probably the most common site of pressure sores, although they also frequently occur on the hips, hocks and sides of the legs.
Prevention of Pressure Sores
The best way to prevent pressure sores is to provide dogs with lofty, well-padded bedding in all areas where they regularly rest. Dogs that are recumbent for medical reasons are especially at risk of developing pressure sores. They should be given very soft, thick, well-padded beds to lie on; egg crate foam, thick foam rubber, waterbeds or inflatable airbeds are all good options. Recumbent dogs should be physically turned (have their position changed) every 2 to 3 hours, to prevent concentrated pressure on their elbows, hocks, hips and other thin-skinned bony areas. Massage, hydrotherapy and other forms of physical therapy can be helpful by stimulating blood circulation to affected sites.
Special Notes
Pressure sores are common in companion dogs. The highest incidence is seen in large and giant breeds and dogs who are crated or otherwise forced to lie down for extended periods of time.
How Pressure Sores are Diagnosed
Pressure sores are not difficult to diagnose. They are not a "disease" or a "medical disorder," but rather are a physical skin and subcutaneous tissue condition caused by pressure, friction and trauma. They are, basically, a "sore."
A thorough history and physical examination are the most important tools in diagnosing pressure sores. The diagnosis is usually made based upon clinical observations and upon the owner's explanation of the environment and surfaces upon which the dog lies. If the pressure sore is ulcerated or infected, the attending veterinarian probably will take samples of the oozing exudate with a sterile cotton swab, and then will submit the samples to a diagnostic laboratory for microscopic examination and culture. Skin biopsies may also be taken for diagnostic examination, depending upon the location and appearance of lesions in the particular patient. Biopsies are important to distinguish pressure sores from potential cancerous masses. In the uncommon case where involvement of bone is suspected, radiographs (X-rays) of the affected area may be recommended.
Special Notes
Pressure sores can be very frustrating to owners of affected dogs. The best way to deal with them is to provide well-padded bedding everywhere that the dog tends to rest, to relieve pressure on its elbows, hocks, hips or other bony pressure points.
Symptoms of Pressure Sores
Pressure sores are visibly obvious. The most common site is on the elbows, but they also can occur on the hips, hocks, chest (sternum), side of the legs or anywhere else on the body. Owners of dogs with pressure sores may not notice the condition until the sores actually break open and ulcerate, or until their dogs are chronically licking at the affected site. Owners may notice one or more of the following signs of pressure sores in their dogs:
Hairless, wrinkled, hyperpigmented (red-to-purple) pad of thickened skin over a bony pressure point
Fluid-filled area over a bony prominence
Ulcer, abscess or weeping wound over a bony prominence
Lameness
Licking at the affected area (often accompanied by stained hair coat at the site of the sore)
Dogs at Increased Risk
Any dog, of any breed or mixed breed and of either gender, can develop pressure sores. However, they are most common in large and giant-breed dogs - such as the Mastiff, Cane Corso, Irish Wolfhound, Great Dane, Labrador Retriever and other large breeds - because their weight and size are disproportionately concentrated on bony pressure points, especially their elbows and hocks, when they are lying down. Dogs with weakened immune systems are more likely to develop infections at the sites of pressure sores. Dogs that lie down (are recumbent) for prolonged periods of time – especially if they are housed on hard surfaces without soft bedding – have an increased risk of developing pressure sores. Malnourished and emaciated dogs also are predisposed to developing pressure sores, because they lack the normal tissue "padding" around their elbows, hocks and other bony areas.
Treatment Options
It is imperative that dogs with pressure sores be provided with well-padded, thick, soft sleeping surfaces at all times, to prevent further trauma. This may be all that is needed to decrease the size of the pressure sores and prevent their progression. There are many commercially available dog beds, mattresses and fabric-covered foam pads that will take the pressure off of bony prominences when a dog is resting or sleeping. If a pressure sore is not infected, adding soft bedding to the dog's living environment - and observing the dog when it is lying down or resting - are probably all that is necessary to manage the condition. The site of the pressure sore should be wrapped with a padded bandage to prevent further trauma to the area as it heals. Moisturizers, aloe lotions or antibiotic ointments or gels can be applied to the affected area to soften the rough skin and provide some relief from discomfort. The area should be bandaged after these substances are applied, to reduce the risk of secondary bacterial infections developing in the moist environment.
If pressure sores become infected, the veterinarian will need to inspect the site more carefully. He probably will take a sample of the oozing exudates on a cotton swab and submit it to a diagnostic laboratory for culture and sensitivity, to identify the precise microorganisms that are responsible for the infection. Long-term antibiotic treatment, both orally and topically, is usually recommended to treat infected pressure sores. A typical course of oral antibiotic treatment is 4 to 6 weeks, at a minimum.
Dogs with hygromas – fluid-filled sacs over areas of pressure, also called bursas – may be treated by draining and flushing the lesion. If caught early, this can be accomplished by needle aspiration, which basically involves inserting a needle into the hygroma and extracting its fluid contents into an attached syringe by pulling on the plunger. The fluid inside hygromas usually is clear or yellowish-to-red. The aspiration site should be well-padded and bandaged after this procedure. However, unless the underlying cause of the hygroma is resolved, most of them will return after being drained by a veterinarian.
Surgical excision (removal) of calluses or hygromas is usually not recommended. Laser therapy may be helpful for small pressure sores, although this treatment is not yet widely available. Pressure sores with extensive ulceration may require surgical skin grafts. Some authorities report that slathering the sores with raw honey or wound-healing creams may accelerate healing.
All pressure sores should be cleaned daily with an antiseptic solution, which the attending veterinarian can recommend. This often is a chlorhexidine solution.
Prognosis
Unfortunately, because of their location on areas where bone and skin are in close proximity and where constant friction is present, pressure sores can be difficult to treat. Most calluses can be controlled by consistently providing appropriate lofty bedding, although it can take a long time for calluses to go away once they have developed, despite well-padded bedding. Fluid-filled hygromas often require more invasive techniques, such as surgical drains, to resolve them.
Remember that Misty Pines has Mutt Mats and Sherpa Beds that will work alone or in conjunction with a Kuranda bed for the ultimate in comfort to keep those sensitive areas soft and supple. The image shown below is a vizsla in our boarding area lying on a Kuranda bed covered with a sherpa pad.
---
---
Who's at the door? Santa or Satan?
By Sue McCabe
Halloween is coming soon and Thanksgiving and Christmas are right around the corner. All of these holidays mean that you'll have droves of guests coming to your house getting Fido all worked up. Teaching a dog to properly greet visitors at the door is one of the most common issues that people have with their dogs. We've provided an article written by Sue McCabe listing different reasons that your dog may want to be over exuberant with their greeting and a few ideas on how to anticipate problems and head them off at the pass. Be sure to note the paragraph detailing how to avoid the situation all together. Enjoy the article and have a Happy, Safe and Stress Free Holiday Season!
In terms of dog/owner frustration & concern, coming a close third place behind recall & dog/dog reactivity issues, is greeting guests. Unlike recall or dog/dog reactivity, training appropriate greetings should not cause as much stress as it seems to. The fact that the challenge is occurring in an owner's home, means people have complete control of the environment in which they are training. As such, it should be easy to manage their dog's behaviour & retrain a greeting acceptable to all concerned. So why is it such a common challenge then?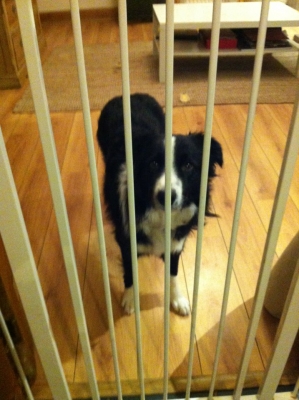 Most dogs can be classed into three categories when it comes to greeting guests. The first type of dog behaves like it's Christmas. Joy, of joys, Santa must be at the door each time someone knocks. The level of excitement & enthusiasm to greet the guest rises to levels beyond the dog or the owner's control. This quickly results in a lunatic fur ball, abound (literally) with glee, paws akimbo, ready to greet the unfortunate guest, who has no idea they possess such cause for excitement. In turn, the owner, at pains to control their hyperactive Santa loving dog, joins in the fun, saying the dog's name over again in an excited voice which winds fido up more. They often attempt to grab or restrain the dog which only makes things worse.
The alternative group of dogs believe that their home is their sanctuary. The front door is the portal which divides safety & the big bad world. Through this portal, each guest carries the guise of Satan. Such dogs are worried for the safety of their property or themselves. The former feels the need to guard their home or owner. The unsuspecting visitor has no idea they have been classed as evil as they are met with a dog ready to protect (lunging, jumping, barking, growling and/or biting). Owners of such dogs, in a vain attempt to take control, often shout commands & use physical restraint, finally resorting to locking the dog away from visitors to keep everyone safe.
Our other Satan wary dogs are terrified for their own safety. Such dogs run to hide, attempt to go deeper into the sanctuary, shy away, beg to be left alone. Owners often attempt placation, reassurance & cajoling. They drag their dogs to greet guests, asking visitors to feed, stroke or cuddle them. All the time such dogs believe they are being asked to make friends with the devil.
While I know there will be rare folk whose dogs don't fall into the three categories listed above, for the average pet dog owner, it's far more common for the Santa or the Satan dog to prevail. For this reason, allowing your dog to greet at the front door is a bad idea for all concerned. Dogs become proficient at behaviours they practice, so if you want your dog to learn calm, controlled greetings, practice this. Manage your dog's behaviour & that of your guests carefully.
Use a dog gate to ensure your dog doesn't greet guests at the front door.
Teach them that the doorbell is a signal to run behind the gate for a tasty treat. Don't wait for guests to arrive to practice this.
Ask guests to COMPLETELY ignore your dog. Lead by example-ignore your dog at this point also.
Make tea, allow your dog to see & hear the guest through the gate. Wait for this new arrival to lose its novelty.
With all three dog types, use 'Treat & Retreat' training but use food which is of extremely high value, real warm roast chicken or fresh cooked liver works best.
The 'Oh my dog, Santa's here' type:
If you've got a Santa loving dog, he will be desperate to say 'hi' so watch for signs that he's given up trying, wait a few minutes more & only then proceed to train him. If Santa loving dogs jump, the dog gate becomes a buffer. Guests should walk away & approach the gate again once the dog is calm. Teach him that guests throw food over his shoulder, so wasting time/energy approaching the guest is pointless, as food comes to him, not the other way around. Guests should begin to train calm sit greetings after several 'free' treat/retreat sessions.
The 'Satan has come to take over my home and/or owner' type:
You really don't want dogs who guard their property or their owners to approach strangers to your home. Close proximity to guests means such dogs may try to control visitors through their actions (stalking/lunging/growling/biting). Make decisions for them to demonstrate clearly that guests are non- threatening & are also in control. When such a dog has relaxed, request that visitors calmly approach the dog gate & toss mouthwateringly tasty food over the dog's shoulder. They should retreat , then repeat the approach until the dog is showing relaxed body language rather than reactive signs, when visitors move towards the gate. Guests can begin to request a sit & repeat the treat/retreat training thus controlling the greeting & reward.
The 'Satan has come to get me' type:
Our last group of dogs don't want to approach guests anyway, they want to be left alone. Respect this by providing a space to hide in (covered crate) while guests visit. Should you chose to change their mind about visitors, do so using treat/retreat training but allow the dog to decide if he wants to take further steps to greet. Ask guests to allow such dogs to approach the dog gate, not the other way around. Toss food. Never at this stage put hands down to the dog. If allowing this cautious greeter to join your gathering, remind guests that most of these dogs want to sniff visitors to reassure themselves they are not in fact Satan, not because they want to be friends with or stroked by strangers.
A simple step which can encourage more appropriate behaviour in our dogs, is often one which owners seem most reluctant to take. People are so desperate for guests to like their dog & vice versa, they continue to put their pets into fail/fail situations. Situations where everyone gets frustrated or upset. Whether your dog expects Santa or Satan at the front door, do him a favour & help him to get it right. Take control of greetings so your dog doesn't have to!
An easy way to set your dog up for success is to give them an area to be in when the doorbell rings or when someone knocks on the door. Unless you have decided that you want your dog to answer the door, it is not appropriate for them to be at the door when someone arrives. Think of it in human terms: does your whole family, kids included, come to answer the door? Probably not. This would be overwhelming to a guest an create too much of a crowd around the door. Apply the same thinking to the dog. Give them a defined place to go and train them to go there when the doorbell rings. Mutt Mats, Sherpa Pads and crates are great ideas for places that your dog can go to and be out of the way and avoid the entire situation all together.
For more solutions to poor manners at the door or other nuisance behaviors, please come to our Nuisance Behaviors class on Saturday, October 29th at 8:00am.
---
---
Locations To Visit
Once your dog has passed their Therapy Dog International certification, it's time for the fun to begin. Read below for a list of places that are always looking for registered therapy dogs to brighten the day of the patients and residents:
Interroom Hospice
Contact: Barbara Hammil - 412-371-3726.
Washinton-Greene Alternative Residential Services
Contact: Valerie Loughman - 724-228-7716.
Community Options
Contact: Jessica Kubas - 412-431-7079.
Heritage Hospice
Contact: Erica Kinkade - 724-334-6600.
Adelphoi
Contact: Bethanne Petrylak - 570-579-8700.
Remed
Contact: Tina - 412-477-0901.
Cranberry Township Library
Dog reading program. Looking for 3-4 dogs, the third Thursday of each month from 6:30 – 7:30 pm
Contact: Annemarie Lamperski.
Baden Memorial Library
Dog reading program. Need volunteer for 2 Thursdays per month from 5:00pm - 6:30pm
and 1 Saturday per month for 1 1/2 hours.
Contact: Kathleen Wagner
Gateway Hospice
Contact: Sr. Linda Larkman OSB, Volunteer Coordinator - 412-737-0969
West Haven Manor
Contact: Karen Zimmerman, Coordinator of Volunteer Services - 724-727-3451
North Hills Health and Rehabilitation Center
Contact: Teri A. Slimick - 724-935-3781
McGuire Memorial
Contact: Susan Matlock - 724-843-3400
Excela Health Home Care and Hospice (Westmoreland County)
Contact: Joan Roth, Volunteer Coordinator - 724-689-1653
Family Hospice Palliative Care
www.familyhospice.com/
Contact: Pam Tomczak - 412-572-8803
Western Pa. Humane Society coordinates visits to multiple locations in the community with volunteers who have Certified Therapy Dogs.
Contact: Joy Kealey.
Odyssey Health Care
Cliff Mine Rd., Pittsburgh
Contact: Barbara Coulter - 1-800-861-8584
Condordia of Franklin Park
Contact: Carol Kosela - 724-935-1075 ext. 103
VA Hospitals in Pittsburgh
Activities Director - 412-688-6000 ext. 3682
Country Meadows (South Hills)
Activities Director - 412-257-4566
Children's Hospital of Pittsburgh
Volunteer Coordinator - 412-690-6508
Animal Friends coordinates a Pet Assisted Therapy program that visits multiple locations.
To join their therapy group or request visits contact Ann Cadman - 412-847-7031.
Allegheny General Hospital
Jennifer Kopar - 412-359-3067
Tail Waggin Tutors at Baden Library
Laura Bain - 724-869-3960
Heartland Hospice
Barb Kralik, Volunteer Coordinator - 412-919-5617
Caring Hospice Services
Brittany Bailey, Volunteer Coordinator - 412-563-3300
Concordia of Wexford
Michelle Moon - 724-935-1266
Passavant Memorial Homes and Subsidiaries
Colleen Perry, Social Services Coordinator - 412-820-1015 ext. 521
Services & Teams
If you would like to have Therapy Dogs visit your facility, please contact one of the following Therapy Dog Teams or contact Misty Pines to have your facility listed in the above section so that our teams may contact you. Click the link below for teams that are interested in visiting those in need of therapeutic visits from their furry friends:
Pets With Heart, Pet Therapy
Sister Sharon Costello: 724-869-6545
sharon@sisterspettherapy.com
Western Pa. Humane Society coordinates visits to multiple locations in the community with volunteers who have Certified Therapy Dogs.
Contact: Joy Kealey.
Animal Friends coordinates a Pet Assisted Therapy program that visits multiple locations.
To join their therapy group or request visits contact Ann Cadman - (412) 847-7031.