October

4



8

11

15

18



25

28

CGC/TDI/Public Access/Service Dog Prep Class

Starter Orientation

Agility

Puppy Orientation

CGC/TDI/Public Access/Service Dog Prep Class

Agility

Halloween Dress-up
Misty Pines Customer Appreciation Day
On Saturday, September 27th we had our Customer Appreciation Day and took some time to say "Thank You" to our wonderful clients. The morning got started with doughnuts and coffee while the morning Agility and Puppy classes were taking place. It was a fairly typical Saturday until around 1:00, at which time we had a delivery of Pizza from Sir's Pizza in Franklin Park and wings from Armstrong's out of the Caste Village Shoppes and put out the chips, salsa and cookies.
A series of demos and mock competitions began shortly after lunch. Thank you to all those that participated in the mock trials and special notes of thanks to Liz Polovina, Meg Yates, April Hubal, Eileen Seiger and Lisa Milan who all put on great demos with their dogs. All of the dogs, except Meg's, did scent work. Meg's dog showed off her amazing retrieving skills and Liz's dog proved she's the fastest weave poler in the west.
Nature's Variety sent a representative to answer questions about their food and treats as well as hand out free Doggie Sundaes. The sundaes were made with Frosty Paws dog ice cream and topped with freeze dried Raw Bites. It was a nice cool treat for the dogs on a perfect, sunny day.
Throughout the entire day we sold tickets for raffle baskets and a 50/50 that all went to benefit the Washington Area Humane Society. Baskets, give-aways and raffle items were donated by Coldwell Banker agent Bonnie Loya, Furrever Friends Gourmet Pet Treats, Dr. Shannon Thieroff - Animal Chiropractor, Rob Grentz - owner of Bar 11, Pet Edge Dealer Services, Phillips Pet Food & Supplies, Nature's Variety, Fromm Pet Food, Tail Bangers Dog Treats and Sir's Pizza of Franklin Park. The WAHS was on site for the event and is very appreciative of everyone's donations. Throughout the day we were able to raise over $500!
Thank you all for your continued support of Misty Pines. We are looking forward to continuing to provide you with exceptional customer service, standard setting pet care and beautiful facilities to enjoy with your pets.
THE WAIT IS OVER!
Misty Pines is pleased to announce that our Doggie Daycare facility and program has reopened! We are very please to offer you and your dog our new and improved Daycare yards. Our goal at Misty Pines is to provide the highest quality of specialized care for your dog in our Daycare program. To ensure we are capable of such a high standard of care we will require reservations for Daycare and limit the number of dogs that participate on a day-to-day basis. While your dog is at Misty Pines for Daycare they will receive mandatory breaks throughout the day to make sure they are receiving a healthy amount of mental and physical rest. In addition, we will have programs for your dog to participate in during Daycare such as obedience training, nature trail walks, treadmill training, agility and much more. Hours for Daycare will remain the same and though our prices have changed we still offer our Daycare Card which entitles you to one free day of daycare for every 10 punches on your card.
Daycare is available Monday through Saturday 8:00 a.m. to 5:00 p.m.
Extended daycare hours available Tuesdays and Thursdays.
7:30 a.m. to 6:30 p.m.
daycare:
1/2 daycare:
extended daycare:
daycare training:

$24 (4 to 8 hours between 8 and 5)
$20 (up to 4 hours between 8 and 5)
$28 (7:30 a.m. to 6:30 p.m.)
(1/2 hour): $35 plus cost of daycare
Every dog is an individual and our goal is to find out what program benefits your dog and which program your dog enjoys the most while they attend Daycare. Please call our office if you have any questions or to schedule a daycare reservation for your dog.
Daycare Programs
TREADWHEEL & TREADMILL TRAINING

$15 / 15 minutes

Our conditioning and exercise programs will help get your dog in shape and help him/her stay fit and active. Short sessions throughout the day help with the initial training and give the dog a well deserved break after each 5 minute period.


AGILITY

$15 / 15 minutes

Jumps, Scrambles, and Dog Walks! Your dog will have a blast running and playing on all of our Agility obstacles. If your dog doesn't know how to do an obstacle, we'll teach them.


PLAY BALL

$10 / 15 minutes

For the ball chasers and retrievers. A Misty Pines staff member will throw a ball or special toy for your dog to run, fetch and play with.


CUDDLE TIME

$10 / 15 minutes

A staff member will spend one on one time with your dog. A great option for first time boarders, shy dogs, geriatric dogs and any dog that loves people.


WALK

$10 / 15 minutes

A Misty Pines Pet Care Technician will spend special one on one time with your dog taking them for a leisurely walk around our park and hiking trails.


AFTERNOON SNACKS

Kong – Your dog will enjoy a stuffed Kong.

$5 / 15 minutes.

Ice Cream – A cold Sweet Spot for hot days!

$2.50


OBEDIENCE TRAINING SESSION

$35 / 30 minutes or $20 / 15 minutes

The Misty Pines professional trainers will work with your dog on any commands you would like. Some of the most popular requests we address are jumping up, pulling on leash, sit and down, stay and come. Your choices are unlimited. Whatever your need, we can help.


SWIMMING

$35 / 30 minutes

Half an hour swimming in our Dog Pond with one of our staff members. They can have a session of water retrieving, diving off the dock after retrieving bumpers.


1 HOUR SUPERVISED DAYCARE

$50

Certain dogs need help acclimating to Daycare. Over a 1 hour period your dog will be given 4 cycles of being taken to the Daycare Yard for 10 minutes then brought in for a 5 minute rest. These constructive encounters, followed by a brief time of relaxation, will help ease your dog into the Daycare atmosphere and help build positive associations with a group of dogs.

Last month the Gazette was already ready to go out by the time we had Graduation so here are those that passed their Graduation last month and are now in the next level of classes. Congratulations to all of you!
Puppy Graduates
Kristin Bogie with Sherlock
Gary Mills with Diesel
Lynn Neuwirth with Jack
MaryBeth Bylsma with Dutchess
Miki Carlin with Titanium
Jason Brown with Riley
Shelly Shebetich with Jules
Starter Graduates
Anne Ferguson with Lexi
Gail Miller with Penny
Jennifer Nazareth with Ryder
Katie Leindecker with Gracie
Rosanna Miller with Roxy
Walt Protch with Nellie
Bill Francis with Willie
Albert Baldwin with Pullo
Basic Graduates
MaryBeth Aiello with Dylan
Billy Loya with Buddy
Karyn Drombosky with Spock
Jessica Kirsch with Athena
Beginning in October 2014 we will have a new schedule for those wishing to test out of their current class level and move to a higher level class. Test out will not interfere with the regularly scheduled Starter Class at 4:45pm.
Puppy Test Out: 2nd Saturday of each month at 4:45pm. Cost is $15 pass or fail.
Starter Test Out: 4th Saturday of each month at 4:45pm. Cost is $15 pass or fail.
Basic and Intermediate Test Out: By appointment. Please speak with your class instructor for available times.
Plum Perfect Shampoo

Wouldn't it be nice to have the sweetest smelling, best looking pup at the park? It provides a deep down clean, optimal body and shine, and an unbelievable fragrance. It's a wonderful coat whitener too. With Aloe, Jojoba, and Coconut.

Fragrance: Plum

Silky Show Shampoo

Wouldn't you love a show dog look? We have the perfect solution. Silky Show Shampoo, with natural Safflower Oil and Silk Protein cleans, conditions and provides amazing shine. Makes combing and brushing a breeze!

Fragrance: Calming Waters

Rainforest Shampoo

Do you wish that wonderful just-groomed look and smell would last? With Rainforest Shampoo, it can. Specially formulated to deliver a deep down clean while adding body, shine, and fragrance. It's become a perennial favorite!

Fragrance: Rainforest
During the month of October if you purchase all three products; Shampoo, Conditioner and Spray, you'll receive a 15% discount on the bundle! You can get that "just groomed" smell anytime with Espree grooming products. Use these between your regularly scheduled grooming sessions and keep that nice smell lasting from groom to groom with no down time.
Espree Natural Shampoos and products can be found on our online store!
---
---
---
Puppy Grooming Socialization: Nail Trimming Conditioning Steps For Young Puppies
Young puppies are just too curious and active to sit still still and quite while you groom them. But the ones that learn how to sit nicely while being groomed will eventually learn to tolerate and even enjoy being brushed, bathed, trimmed, and clipped. A puppy that experiences all forms of being handled at an early age will be easily trainable and better socialized when around veterinarians, children, groomers, and pet sitters.
The key activity is to simply handle your puppy as often as you can during the day while concentrating on one particular part of the dog's body for each session. Spend a few minutes handling his feet, then the ears, etc.
Getting Your Pup Used To Nail Trimming
Of all of the grooming activities that we must engage our pets in, nail trimming is probably the hardest for your puppy to get used to. And if you neglect to practice trimming your puppy's nails at an early age, it may be virtually impossible to do so as he grows older.
Here is how to get your puppy accustomed to having his nails trimmed:
1. Touch your puppy's paw and then click your clicker while giving him a treat. If he pulls back nervously then go a little slower next time. Your goal is just to be able to touch his paw without him pulling it back from you.
2. Once your dog is comfortable with having his paw touched, push the envelope a bit further by picking up his paw and moving it around. Whenever he lets you do so without flinching, click and offer a treat.
3. The next step is to start fondling the toes by separating them and wiggling them around some more. Press on his paw pads. Go slow and take your time.
4. Now it is time to introduce the nail clipper to your puppy, but do not click just yet! The first stage in the process is to get the dog used to having this shiny piece of metal up and close around its paws. Whenever he sniffs at the nail trimmer and does not appear to be scared, click and offer a treat.
5. Still yet, do not clip! The next baby step in this process is to fit the nail clipper over each of your puppy's nails, but without clipping. Just add a little pressure. And again, click and treat when he appears to accept this activity.
6. Now it is time to make the cut. Clip the first nail, click your clicker, and offer a treat to your puppy. Be sure to be enthusiastic with lots of affection. When you feel he is ready for the next nail, move forward and clip the rest in a timed fashion. Remember to go slow and make the process fun.
Sometimes cutting nails can be a nerve wracking so keep in mind that you can skip #6 and have the actual nail clipping done at a professional facility, such as the Misty Pines Grooming Salon or your vet. All the time that you've put in acclimating your puppy to the nail clippers won't have gone to waste as it will help your puppy have a good experience no matter who is clipping the nails. Be sure to let the person cutting the nails know that it is the puppy's first nail trim and ask that they give lots of treats. Of course, puppies are so cute, how can you NOT give them treats?
At Misty Pines we offer a Puppy Pre-School class on Saturday mornings at 10:15am for puppies under 12 weeks of age during which we focus on socialization, not just with people and puppies, but also with situations and other experiences the dog will encounter during its life. We stand them on a surgical vet table for an examination and while on the table we expose them to nail clippers and we clean their ears. While giving the puppies these experiences we they are being given treats and love to make sure these are positive experiences. In addition to just nail clippers, we also introduce the dog to a nail grinder and brush. All of these items and encounters will help to shape the dog's future perception of what is positive and negative, thus creating a more social, well-balanced dog that tolerates and perhaps even enjoys grooming and nail clipping.
If you would like more information about getting started in Puppy Pre-School or if you need to schedule a grooming for your dog, please call our office at 412.364.4122 and we will be happy to assist you.
---
---
Everything you need to know about grooming
The general condition of your dog's skin and coat are good indicators of its health. Although health and nutrition influence the luster and texture of your pet's coat from the inside, regular grooming and skin care on the outside will help keep your dog's coat clean and free of tangles, no matter what type of hair coat he or she has. Not only does it keep dogs' coats clean and manageable, it also enables you to do a quick health check to ensure your pet stays in tip-top condition.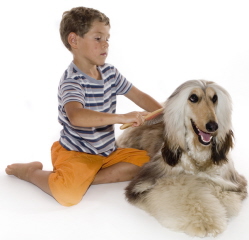 Why Groom?
There are many benefits to grooming your dog. As well as aerating the coat and ensuring healthy growth, brushing promotes good blood circulation. Grooming helps to keep grease levels down — a build-up of grease in a dog's coat can block pores and cause sebaceous cysts.
Most dogs live indoors and so molt quicker and more often than their wild counterparts, causing the loose hairs to become matted. If not brushed out regularly, they form into heavy wads which can drag the skin down, causing soreness and skin complaints.
Grooming is also the perfect opportunity for you to check your dog over to ensure he's healthy. Giving him a once-over also enables you to check for any balls of matted fur between his paw pads, which can sometimes become hard with dirt and grease, causing discomfort.
On an emotional level, grooming reduces stress in both parties, helping dog and owner to relax and build up a close bond. When you groom your dog regularly — start when he's a pup to get him used to the procedure — you'll get to know him better, both physically and mentally.
How often should I bathe my dog?
Most dogs require bathing on an occasional basis, usually when their coat becomes dirty or when they develop a 'doggy odor'. Non shedding breeds that have no health issues usually need to be bathed about every six to eight weeks, at the time of their regular grooming. Dogs that have a heavy undercoat will benefit from bathing in the spring or fall, when they are undergoing their seasonal shedding.
How often your individual dog needs to be bathed will vary somewhat with its age, lifestyle, type of hair coat, and underlying health status as discussed above. If you have a young puppy that is just being house trained and it accidentally soils itself, there is no question that it should be bathed immediately. A dog that enjoys running through puddles or jumping into water may need a bath after a stroll through the mud or a romp in a scum-covered pond. Some dogs enjoy rubbing their head in decomposing debris in the park, or rolling in objectionable objects, and will need a bath whenever this happens so that it is allowed back into the house! Finally, if your dog has allergies, your veterinarian may prescribe frequent bathing as part of the treatment regime - with some of these dogs, daily bathing may be necessary until the problem gets under control.
If you find that your dog requires frequent bathing, you should discuss this with your veterinarian, who may recommend the use of a special shampoo, conditioning rinse, or 'dry shampoo' so that your furry friend does not develop skin problems associated with the repeated baths.
How should I bathe my dog?
You should always bathe your dog in warm water, partly for the comfort of the dog and partly because shampoos clean more effectively in warm water. Depending on the dog's size, you may find that it is convenient to bathe him in the laundry tub or the bathtub, or even in a walk-in shower stall. The common habit of washing dogs under the garden hose, using cold water, is not recommended, and is often the reason why dogs dislike being bathed.
After you have applied the shampoo, work it through the entire coat to remove all dirt and debris. Some owners of dogs with particularly thick coats find that it is best to dilute the shampoo in some water so that it is easier to apply and rinse out. For routine bathing, you can rinse the shampoo out right away, but if you are using a medicated shampoo, it must be allowed to sit on the coat for 5-10 minutes before being rinsed out. Make sure you read the instructions on the shampoo label for the specific product that you are using, or follow your veterinarian's directions if you are using a medicated shampoo.
Once the shampoo has done its job, it must be completely rinsed out. For best results, a conditioning product should be applied afterwards, to restore any lost moisture to the skin and minimize the development of dandruff after the bath.
Can I use baby shampoo?
No. Dogs should only be bathed in a shampoo that is formulated for use on dogs - their skin has a different thickness and pH than human skin, and human shampoo, including baby shampoo, is too harsh for their skin. For regular bathing, a hypoallergenic shampoo without any added perfumes is the best choice.
How often should I groom my dog?
All dogs benefit from regular brushing to remove loose hairs and dead skin cells, to keep the coat free of dirt, debris, and external parasites, and to distribute natural skin oils along the hair shafts. Dogs with long, silky or curly coats require daily brushing to keep their hair from becoming tangled or matted, especially around the ears, in the armpits, or along the back of the legs. Dogs with short hair coats may require less frequent brushing. However, daily brushing of any dog that sheds will cut down dramatically on the amount of loose hair and pet dander floating around the home, and will also cut down on the amount of hair that the dog swallows in the course of self-grooming with its tongue.
Regardless of the type of hair coat, you should inspect your dog's coat every day to make sure there are no tangles or clumps that have developed under the armpits, in the groin, or behind the ears. After a romp through the grass or in the woods, it is a good idea to look for burrs or grass awns that might have become trapped in the coat and could potentially cause irritation.
If you regularly check your dog's coat and skin, you will also have a better chance of detecting any unusual lumps, bumps, or areas of sensitivity on your dog's body at an early stage.
What are the different types of hair coat that a dog might have?
Selective breeding has led to the development of dogs with a myriad of different coat characteristics and different grooming needs. Some breeds have hair that grows continuously and does not shed. These breeds of dog require regular trips to the 'doggy salon' for a shampoo and cut. Breeds such as huskies, malamutes and many retrievers have long, thick hair coats with both an outer coat of 'guard hairs' and an undercoat of fine hair that serves as an insulating layer. These breeds often go through two heavy seasonal shedding cycles per year (late spring and late fall), during which much of the undercoat falls out in clumps. Many short-haired breeds lack a distinctive undercoat, and these breeds often shed hair in low levels all year round.
What type of brush or comb should I use?
Different styles of brush work better on certain types of hair coats. Slicker brushes work well for dogs such as poodles, with curly non-shedding coats, while combs or stiff bristle brushes are good for dogs with medium length hair that sheds, such as retrievers. Brushes with short bristles or flexible 'grooming gloves' are good for smooth-coated dogs such as pointers or boxers. Long-toothed combs, especially ones made with several offset rows, are good for use in dogs with long hair, such as collies; these combs are also useful for removing tangled clumps of hair, or for removing clumps of loose undercoat hair when your dog is undergoing a seasonal shedding.
Your breeder or groomer may have specific recommendations for a grooming tool that could work particularly well for your dog's type of coat. Whatever the choice of brush you use, it is important to be gentle when using it, and to avoid excessive pulling on tangles.
What to have in a basic grooming kit
Although the types of brushes you need will depend on your dog's coat type, these tools will come in useful for most dogs:
Detangling spray
Fine comb
Wide-toothed, coarse metal comb
Ear drops
Ear and eye wipes
Small scissors
Soft slicker brush
Doggy toothbrush and toothpaste
A grooming rug/non-slip rubber mat
How should I remove tangles or burrs?
If a tangle is small or relatively minor, or if your dog has just picked up a burr or grass awn, you may be able to gently remove it by brushing or combing it out. If, however, the tangle is extensive or there is a large clump of burrs or grass awns forming a mat, it may be necessary to cut out the clump of hair. In this case, you need to be extremely CAREFUL that you do not accidentally cut your dog's skin. When tangles are severe or extensive, we strongly recommend that you seek professional care, either from a dog groomer or from your veterinarian. If a matt has caused any sort of skin irritation, you should take your dog to the veterinarian so that the appropriate treatment can be prescribed.
If you are planning on bathing your dog, make sure that you brush out as many burrs or tangles from the coat BEFORE bathing, since tangles can become impossible to remove after a bath!
Should I have my long haired dog shaved down in the summer?
Dogs with long hair may be more comfortable if their coat is cut short for the summer, depending on the circumstances. This haircut should be done before the temperature becomes too high, so that the exposed skin does not become damaged from sunburn.
Grooming at home
Set aside some time each day for a grooming session and make it part of your daily routine. Choose a time to groom when your dog is relaxed and settled, rather than when he's in the mood for fun and games. Lots of praise and a few treats can turn a stressful situation into a special occasion. Get puppies used to grooming and being handled from an early age. This will pay off when your adult dog starts to visit a professional groomer.
It's also important that you're relaxed and stress free — refrain from grooming your dog when you've just got home from a bad day as you're more likely to be short-tempered and irritable. Instead, go for an invigorating walk beforehand to blow away the cobwebs, then settle down for a grooming session. Gather all the tools you'll need so they're to hand — keep them in a box or bag so they all stay in one place and you don't mislay anything. Different coat types will require different types of brushes — make sure you have the right brush to suit your dog's coat.
Grooming isn't just about looking and smelling good — it's also important for your dog's well-being. Before you begin, check him over for any lumps and bumps, cuts and grazes, or skin problems. Also check for fleas or ticks, blocked anal glands, dirty ears, look at the condition of the eyes, and general overall condition.
Hairy feet can mean that long claws are missed — remember to check your dog's claws every week.
Why visit a professional dog groomer?
Some dogs will need to visit a professional groomer, depending on their coat type. Long-haired dogs and those with busy, active lifestyles will need a groom more frequently than shorter-haired dogs or those with inactive lifestyles.
For smooth-haired breeds such as Staffordshire Bull Terriers, Jack Russells, or Whippets, it's not as essential to go to a professional groomer every time. These types of breeds can easily be groomed and bathed at home. If you're planning on showing your dog it's best to visit a groomer who's experienced with your particular breed. Show styles will change slightly every so often, so a breed-specific groomer will be able to give you advice.
There are many benefits to visiting a good groomer. A professional clip will enhance your dog's coat and the tools and equipment used in a salon are generally better and more high tech.
Mark Davies, from Allbreed Grooming Academy, in Brierley Hill, West Midlands, said: "A good groomer will have knowledge of a breed and the skill to trim a dog to make him look balanced. A professional groomer will be able to enhance the coat for a specific dog so he can look his best, rather than using one cut to fit all of the same breed. They will use the best shampoos and conditioners and can identify which shampoo would be best to enhance a coat type."
Sometimes, people can be blasé when checking their dogs; an experienced groomer may spot something the owner has missed. This could be something as minor as fleas or a lump that's hard to spot. Going to a groomer also provides the opportunity for social interaction with other dogs which can be a good experience for them.
Check out these examples of creative grooming. Maybe you'll get some ideas for Halloween costumes for your dog. By the way: We're having a Dress-up Night on Tuesday, October 28th during our 6:30 All Levels class. Dogs and owners are encouraged to dress-up for class! While you're all dressed up, don't forget to grab a treat or Halloween toy for your furry Trick or Treater.
---
---
Once your dog has passed their Therapy Dog International certification, it's time for the fun to begin. These places are always looking for registered therapy dogs to brighten the day of the patients and residents:
Baden Memorial Library
Dog reading program. Need volunteer for 2 Thursdays per month from 5:00pm - 6:30pm
and 1 Saturday per month for 1 1/2 hours.
Contact: Kathleen Wagner kwagner@beaverlibraries.org
Gateway Hospice
Contact: Sr. Linda Larkman OSB, Volunteer Coordinator 412-737-0969
West Haven Manor
Contact: Karen Zimmerman, Coordinator of Volunteer Services 724-727-3451
kzimmerman@qualitylifeservices.com
North Hills Health and Rehabilitation Center
Contact: Teri A. Slimick 724-935-3781
TASlimick@SavaSC.com
McGuire Memorial
Contact: Susan Matlock 724-843-3400
smatlock@mcguirememorial.org
Excela Health Home Care and Hospice (Westmoreland County)
Contact: Joan Roth, Volunteer Coordinator
724-689-1653
jroth@excelahealth.org
Family Hospice Palliative Care
www.familyhospice.com/
Contact: Pam Tomczak 412-572-8803
Western Pa. Humane Society coordinates visits to multiple locations in the community with volunteers who have Certified Therapy Dogs.
Contact: Joy Kealey
joy.kealey@wpahumane.org.
Odyssey Health Care
Cliff Mine Rd., Pittsburgh
Contact: Barbara Coulter 1-800-861-8584
Condordia of Franklin Park
Contact: Carol Kosela 724-935-1075 ext. 103
VA Hospitals in Pittsburgh
Activities Director: 412-688-6000 ext. 3682
Country Meadows (South Hills)
Activities Director: 412-257-4566
Children's Hospital of Pittsburgh
Volunteer Coordinator: 412-690-6508
Animal Friends also coordinates a Pet Assisted Therapy program that visits multiple locations. To join their therapy group contact:

Ann Cadman: (412) 847-7031
pettherapy@animal-friends.org
Allegheny General Hospital
Jennifer Kopar: 412-359-3067
jkopar@wpahs.org
Tail Waggin Tutors at Baden Library
Laura Bain: 724-869-3960
Heartland Hospice
Barb Kralik, Volunteer Coordinator: 412-919-5617
heartlandvcs@gmail.com
Caring Hospice Services
Brittany Bailey, Volunteer Coordinator: 412-563-3300
bbailey@caringhospice.com
Concordia of Wexford
Michelle Moon: 724-935-1266
Passavant Memorial Homes and Subsidiaries
Colleen Perry, Social Services Coordinator: 412-820-1015 ext. 521
cperry@passavant.org
If you would like to have Therapy Dogs visit your facility, please contact one of the following Therapy Dog Teams or contact Misty Pines to have your facility listed in the above section so that our teams may contact you. The Teams listed below are a small portion of those interested in visiting those in need of therapeutic visits from their furry friends:
Pets With Heart, Pet Therapy
Sister Sharon Costello: 724-869-6545
sharon@sisterspettherapy.com