---
October

3

3


10

10


10

14

17



17


21

24

24

24

31



31

Agility

Scent Work Level 2 - Week #1

Agility

Scent Work Level 2 - Week #2

Puppy Test Out

Starter Orientation

CGC/TDI/Service Dog/Public Access Test Prep

Scent Work Level 2 - Week #3

Puppy Orientation

Agility

Door Manners

Starter Test Out

CGC/TDI/Service Dog/Public Access Test Prep

Halloween All Levels Class
Customer Appreciation Day Recap
On September 19th, Misty Pines Pet Company celebrated our 40th anniversary of serving the Pittsburgh community. We spent the day thanking our clients that help make our business possible, as well as raising funds for the Ambridge Borough Police Dog Fund.
After sharing lunch from Sir Pizza in Franklin Park, we had several police dogs on site to provide a demonstration of scent detection and bite work. Ambridge Borough's Officer John Chickos and K-9 Hector led the group of officers and dogs from the Beaver County Sheriff's Office, Patterson Township and Ohio Township Police departments, locating narcotics around the training building to showcase the German Shepherd and Belgian Malinois noses. The dogs then performed the highly skilled task of bite work – chasing down a suspect and physically detaining them for their handler. The whole crowd was captivated watching these elite dogs do what they do best. The officers were quick to explain that the dogs really do find their work enjoyable; no dog is forcibly trained and all work for a toy or fun activity as reward. They choose working breeds that have high intelligence and great strength, but also will be solid companions. Police dogs live with their handlers, making their partnership the most unique on the police force. That being said, the K-9 handlers are expected to provide most of the day-to-day care for the dogs on their own. Misty Pines was proud to host a fundraiser for Officer Chickos and Hector, who explained to us that no K-9 unit goes without help. The funds we raised will not only help Hector, but will be used for any K-9 in need throughout the region. Thank you to Officer Chickos and Hector for pledging their services to our community, as well as offering to help others in the region with the funds raised here.
Overall, the day was beautiful and benevolent. Not only did our staff enjoy a wonderful day with our clients, but we raised nearly $3000 for the Ambridge Borough Police Dog Fund! We could not have done it without your help – in addition to several private monetary donations, we had gift baskets donated by several clients and local businesses. Our raffles and silent auctions were a hit, and we hope all the winners are enjoying their prizes! Thank you to everyone who participated on the day of the event, but also thank you to everyone who has been here during our 40 years of business. We wouldn't exist without your support, and hope to continue serving you for many years to come!
If you have any pictures or videos from the event, please share them on our Facebook page. We would love to copies as well. If you would like to share your pictures and videos with us please e-mail them to info@mistypinespetcompany.com.
Special Thanks goes to:
American Eagle via Bob and Heather Pettner
Above All Grand Salon & Spa
Big Burrito Restaurant Group
Ryan Camuso & Sidney Frank Importing Company
Casa D'Oro
Erie Insurance – Pat Casper Sr.
Fromm Family Pet Foods
Furrever Friends Pet Treats
The Guerin Family & the Pittsburgh Penguins
Grove City Outlets
Pet Portraits by Kelly Grace
Kollinger Auto
The Loya Family
Maniac Magazine
Nature's Variety Pet Foods
Phillips Pet Food & Supplies
Pittsburgh Pirates
Liz Polovina & Eric Scheirer
Primanti Brothers
Tail Bangers Treats
Tranquility Spa & Dr. Justin Scott
Wigle Whiskey
The Wolz Family
Wine Basket from Glatz Wine Cellar
Beginning Thursday, October 1st there will no longer be an additional charge for Extended Daycare. Prices will be $20 for up to 4 hours and $24 for any amount of time over 4 hours.
Half-price Monday Daycare is coming to an end. Please note that regular pricing will now be in effect for Daycare on Mondays. Thank you to everyone who joined us on Mondays, hopefully you'll continue to visit with us at the beginning of each week.
The Saturday 4:45pm Starter Class will resume as of Saturday, October 3rd.
The Tuesday All Levels classes, 10:00am and 6:30pm, will now be 45 minutes instead of 1 hour. Prices will remain the same.
Saturday, October 24th | 2:30 - 3:30 PM
Misty Pines is offering a class to teach dogs appropriate manners when greeting people and while in the house. Jumping up on guests is one of the most common nuisance behaviors that dog owners deal with. Similar problems include climbing on furniture, counter-surfing and begging at the table. Our manners class will address these topics and more. This class will prepare owners for Trick or Treaters and the approaching holiday season through realistic training scenarios designed for use at home.
All Levels Halloween Themed Class
Saturday, October 31st | 2:30 - 3:30 PM
Get your trick or treating started early at Misty Pines! We will be holding a spooktackular howl-o-ween themed All Levels Class on Saturday, October 31, 2015 at 2:30pm. Bring your dogs and kids dressed in their howl-o-ween best and they will receive a bag full of treats and a 10% coupon off all toys and treats! If you are really feeling goulish you can dress up too! This family-friendly class full of costumed people, dogs, and eerie distractions will provide your dog with a unique learning environment.
Misty Pines is offering a designated area for bird dog owners work your bird dog on controlled released bobwhite quail for one hour by appointment. No shooting is permitted, only nose work. For an appointment please call 412-364-4122. The cost is $30. If you would prefer a private bird dog lesson with our Master Bird Dog Trainer, call to schedule a one hour appointment. The cost for a private lesson is $95.
May all your hours be winged with pleasure,
Misty Pines Training Staff
Spooktacular Savings on
Howl-o-ween Toys!
All Halloween toys are 20% Off this month at Misty Pines!
---
---
Saturday, October 3rd @ 8:00 AM

Saturday, October 3rd @ 2:30 PM

Saturday, October 10th @ 8:00 AM

Saturday, October 10th @ 2:30 PM

Saturday, October 10th @ 4:45 PM

CGC/TDI/Service Dog/Public Access Prep Class

Saturday, October 17th @ 8:00 AM

Saturday, October 17th @ 2:30 PM

Saturday, October 24th @ 8:00 AM

Saturdays, October 24th @ 2:30 PM

Saturday, October 24th @ 4:45 PM

CGC/TDI/Service Dog/Public Access Prep Class

Saturday, October 31st @ 8:00 AM

Saturday, October 31st @ 2:30 PM

Saturday, November 7th @ 8:00 AM

Saturday, November 7th @ 2:30 PM

Saturday, November 7th @ 8:00 AM

Saturday, November 14th @ 2:30 PM

Saturday, November 14th @ 4:45 PM

Saturday, November 20th Tests begin @ 5:30PM

CGC/TDI/Service Dog/Public Access Prep Class

Saturday, November 21sth @ 8:00 AM

Saturday, November 21st @ 2:30 PM

Saturday, November 28th @ 8:00 AM

Saturday, November 28th @ 4:45 PM
Who's at the door? Santa or Satan?
By Sue McCabe
Halloween is coming soon and Thanksgiving and Christmas are right around the corner. All of these holidays mean that you'll have droves of guests coming to your house getting Fido all worked up. Teaching a dog to properly greet visitors at the door is one of the most common issues that people have with their dogs. We've provided an article written by Sue McCabe listing different reasons that your dog may want to be over exuberant with their greeting and a few ideas on how to anticipate problems and head them off at the pass. Be sure to note the paragraph detailing how to avoid the situation all together. Enjoy the article and have a Happy, Safe and Stress Free Holiday Season!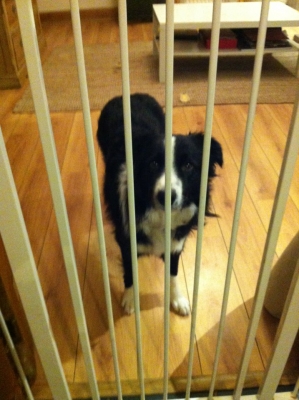 In terms of dog/owner frustration & concern, coming a close third place behind recall & dog/dog reactivity issues, is greeting guests. Unlike recall or dog/dog reactivity, training appropriate greetings should not cause as much stress as it seems to. The fact that the challenge is occurring in an owner's home, means people have complete control of the environment in which they are training. As such, it should be easy to manage their dog's behaviour & retrain a greeting acceptable to all concerned. So why is it such a common challenge then?
Most dogs can be classed into three categories when it comes to greeting guests. The first type of dog behaves like it's Christmas. Joy, of joys, Santa must be at the door each time someone knocks. The level of excitement & enthusiasm to greet the guest rises to levels beyond the dog or the owner's control. This quickly results in a lunatic fur ball, abound (literally) with glee, paws akimbo, ready to greet the unfortunate guest, who has no idea they possess such cause for excitement. In turn, the owner, at pains to control their hyperactive Santa loving dog, joins in the fun, saying the dog's name over again in an excited voice which winds fido up more. They often attempt to grab or restrain the dog which only makes things worse.
The alternative group of dogs believe that their home is their sanctuary. The front door is the portal which divides safety & the big bad world. Through this portal, each guest carries the guise of Satan. Such dogs are worried for the safety of their property or themselves. The former feels the need to guard their home or owner. The unsuspecting visitor has no idea they have been classed as evil as they are met with a dog ready to protect (lunging, jumping, barking, growling and/or biting). Owners of such dogs, in a vain attempt to take control, often shout commands & use physical restraint, finally resorting to locking the dog away from visitors to keep everyone safe.
Our other Satan wary dogs are terrified for their own safety. Such dogs run to hide, attempt to go deeper into the sanctuary, shy away, beg to be left alone. Owners often attempt placation, reassurance & cajoling. They drag their dogs to greet guests, asking visitors to feed, stroke or cuddle them. All the time such dogs believe they are being asked to make friends with the devil.
While I know there will be rare folk whose dogs don't fall into the three categories listed above, for the average pet dog owner, it's far more common for the Santa or the Satan dog to prevail. For this reason, allowing your dog to greet at the front door is a bad idea for all concerned. Dogs become proficient at behaviours they practice, so if you want your dog to learn calm, controlled greetings, practice this. Manage your dog's behaviour & that of your guests carefully.
Use a dog gate to ensure your dog doesn't greet guests at the front door.
Teach them that the doorbell is a signal to run behind the gate for a tasty treat. Don't wait for guests to arrive to practice this.
Ask guests to COMPLETELY ignore your dog. Lead by example-ignore your dog at this point also.
Make tea, allow your dog to see & hear the guest through the gate. Wait for this new arrival to lose its novelty.
With all three dog types, use 'Treat & Retreat' training but use food which is of extremely high value, real warm roast chicken or fresh cooked liver works best.
The 'Oh my dog, Santa's here' type:
If you've got a Santa loving dog, he will be desperate to say 'hi' so watch for signs that he's given up trying, wait a few minutes more & only then proceed to train him. If Santa loving dogs jump, the dog gate becomes a buffer. Guests should walk away & approach the gate again once the dog is calm. Teach him that guests throw food over his shoulder, so wasting time/energy approaching the guest is pointless, as food comes to him, not the other way around. Guests should begin to train calm sit greetings after several 'free' treat/retreat sessions.
The 'Satan has come to take over my home and/or owner' type:
You really don't want dogs who guard their property or their owners to approach strangers to your home. Close proximity to guests means such dogs may try to control visitors through their actions (stalking/lunging/growling/biting). Make decisions for them to demonstrate clearly that guests are non- threatening & are also in control. When such a dog has relaxed, request that visitors calmly approach the dog gate & toss mouthwateringly tasty food over the dog's shoulder. They should retreat , then repeat the approach until the dog is showing relaxed body language rather than reactive signs, when visitors move towards the gate. Guests can begin to request a sit & repeat the treat/retreat training thus controlling the greeting & reward.
The 'Satan has come to get me' type:
Our last group of dogs don't want to approach guests anyway, they want to be left alone. Respect this by providing a space to hide in (covered crate) while guests visit. Should you chose to change their mind about visitors, do so using treat/retreat training but allow the dog to decide if he wants to take further steps to greet. Ask guests to allow such dogs to approach the dog gate, not the other way around. Toss food. Never at this stage put hands down to the dog. If allowing this cautious greeter to join your gathering, remind guests that most of these dogs want to sniff visitors to reassure themselves they are not in fact Satan, not because they want to be friends with or stroked by strangers.
A simple step which can encourage more appropriate behaviour in our dogs, is often one which owners seem most reluctant to take. People are so desperate for guests to like their dog & vice versa, they continue to put their pets into fail/fail situations. Situations where everyone gets frustrated or upset. Whether your dog expects Santa or Satan at the front door, do him a favour & help him to get it right. Take control of greetings so your dog doesn't have to!
With all of this in mind we are offering a Door Manners class on Saturday, October 24th at 2:30pm to work on proper greetings and manners at the door. This will make sure the information is fresh in your mind and that you've had some time to practice before Halloween and then you'll have plenty of time before Thanksgiving and Christmas arrive.
---
---
by Valerie Trumps of Pet360.com
Your Halloween pumpkins may get an interested sniff from dogs and cats, but can they eat it without having a negative impact on their health? While raw pumpkin is not ideal for cat or dog (or human!) consumption, canned and cooked fresh pumpkin, along with pumpkin seeds, can be a healthy addition to their diet.
Pumpkin Health Benefits, Inside and Out
This nutrition powerhouse is great for people and can have a variety of health benefits for pets when given in small doses. Here are some:
Urinary Tract Support: Veterinarians believe that the oils contained in the seeds and flesh of pumpkins support urinary health in dogs and cats. Anyone whose pet has had kidney or bladder stones (or the horror of both) can attest to how much suffering they cause your pooch or kitty. Regularly adding pumpkin to your pet's diet can help avoid this painful condition.
Regular Digestion: Our furry friends need fiber to stay regular just like we do, and pumpkin is a great source for pets and their parents. Its benefits go both ways – diarrhea as well as constipation can be eliminated with just 1 or two tablespoons of plain pumpkin, not sweetened or spiced, fed to your pet daily until the condition has cleared. Base the amount given on your pet's size.
Furballs: The fiber in pumpkin can help move furballs along through your cat's digestive tract and into the litter box, rather than hacked up onto the carpet. Over a period of time, regularly including about a teaspoon a day of pumpkin in your cat's diet will also help prevent the formation of new furballs. Try giving it to her right out of the can – most felines enjoy the flavor and will eat it plain. But if she turns up her nose at it, mix it with a small amount of canned food and watch it disappear.
Skin and Coat: The antioxidants and essential fatty acids contained in pumpkin seeds help moisturize your pet's skin and fur from the inside out. Although they may enjoy slurping down the fresh, slimy version, most pets prefer them toasted. Spread seeds evenly onto a baking sheet, lightly coat with cooking oil, roast in a 375-degree oven for 5 or 10 minutes, and cool before serving one or two as a daily treat. Leftover seeds should be stored in an airtight container.
Parasites: Tapeworms and other intestinal parasites become paralyzed by cucurbitin, an amino acid in pumpkin seeds that acts as a natural de-worming agent. The most effective way to prepare seeds for this purpose is by grinding up fresh or properly preserved pumpkin seeds into a powder. Give your cat or dog 1 teaspoon three times a day, mixed into a marble-sized portion of canned food and given as a treat. You can sprinkle it on your pet's food at mealtime instead, but doing so runs the risk of the full dosage not being consumed each time it's administered.
Nutrition: Pumpkin flesh and seeds are loaded with beta-carotene, vitamin A, iron, potassium, magnesium, manganese, copper, and zinc. They also contain antioxidants, which may prevent some cancers from forming and help your pet stay healthy and young. Just don't overdo the portion sizes, since minerals like iron and fat-soluble vitamins such as vitamin A can accumulate to unhealthy, even toxic, levels. A teaspoon or two per day is plenty.
Weight Loss: Obesity is a common issue that is just as dangerous for animals as it is for humans. If your pooch or kitty can stand to drop a few pounds, mix some soaked dry kibble with a tablespoon of canned pumpkin. The mushy kibble makes them think they're eating more, the pumpkin fiber helps their tummy feel full, and they'll enjoy the new taste treat.
The Best Ways to Buy and Cook Pumpkin
Unfortunately, pumpkin by itself is not a commercial baby food flavor; it's usually mixed with sweet potatoes. So it's not a good idea to feed this form of pumpkin to your pet, however tempting the small jars may be to reduce waste from leftovers. The typical 15-ounce can in which pumpkin is packed contains 29 tablespoons - obviously too much for one pet (or even two) to consume within a week. So, unless your pet family is particularly large or you have many other pet parents with whom to share your pumpkin bounty, a significant amount will end up in the garbage unless the extra is dealt with.
The best way to store leftover canned pumpkin is in the freezer since it will only last a week in the refrigerator. Scoop your canned pumpkin into an ice cube tray, freeze, and pop out the cubes into a freezer bag. Thaw one out when you need it, mix with a spoon to blend any separation of water, and refrigerate the leftover pumpkin cube to serve at your pet's next meal. If you don't want to retrieve pumpkin cubes from the freezer every other day, count out a week's worth of servings into small freezer containers. Put them into the freezer and take out one container at a time to thaw and serve to your pet throughout the week.
---
---
Locations To Visit
Once your dog has passed their Therapy Dog International certification, it's time for the fun to begin. Read below for a list of places that are always looking for registered therapy dogs to brighten the day of the patients and residents:
Cranberry Township Library
Dog reading proram. Looking for 3-4 dogs, the third Thursday of each month from 6:30 – 7:30 pm
Contact: Annemarie Lamperski alamperski@bcfls.org.
Baden Memorial Library
Dog reading program. Need volunteer for 2 Thursdays per month from 5:00pm - 6:30pm
and 1 Saturday per month for 1 1/2 hours.
Contact: Kathleen Wagner kwagner@beaverlibraries.org
Gateway Hospice
Contact: Sr. Linda Larkman OSB, Volunteer Coordinator 412-737-0969
West Haven Manor
Contact: Karen Zimmerman, Coordinator of Volunteer Services 724-727-3451
kzimmerman@qualitylifeservices.com
North Hills Health and Rehabilitation Center
Contact: Teri A. Slimick 724-935-3781
TASlimick@SavaSC.com
McGuire Memorial
Contact: Susan Matlock 724-843-3400
smatlock@mcguirememorial.org
Excela Health Home Care and Hospice (Westmoreland County)
Contact: Joan Roth, Volunteer Coordinator
724-689-1653
jroth@excelahealth.org
Family Hospice Palliative Care
www.familyhospice.com/
Contact: Pam Tomczak 412-572-8803
Western Pa. Humane Society coordinates visits to multiple locations in the community with volunteers who have Certified Therapy Dogs.
Contact: Joy Kealey
joy.kealey@wpahumane.org.
Odyssey Health Care
Cliff Mine Rd., Pittsburgh
Contact: Barbara Coulter 1-800-861-8584
Condordia of Franklin Park
Contact: Carol Kosela 724-935-1075 ext. 103
VA Hospitals in Pittsburgh
Activities Director: 412-688-6000 ext. 3682
Country Meadows (South Hills)
Activities Director: 412-257-4566
Children's Hospital of Pittsburgh
Volunteer Coordinator: 412-690-6508
Animal Friends also coordinates a Pet Assisted Therapy program that visits multiple locations. To join their therapy group contact:

Ann Cadman: (412) 847-7031
pettherapy@animal-friends.org
Allegheny General Hospital
Jennifer Kopar: 412-359-3067
jkopar@wpahs.org
Tail Waggin Tutors at Baden Library
Laura Bain: 724-869-3960
Heartland Hospice
Barb Kralik, Volunteer Coordinator: 412-919-5617
heartlandvcs@gmail.com
Caring Hospice Services
Brittany Bailey, Volunteer Coordinator: 412-563-3300
bbailey@caringhospice.com
Concordia of Wexford
Michelle Moon: 724-935-1266
Passavant Memorial Homes and Subsidiaries
Colleen Perry, Social Services Coordinator: 412-820-1015 ext. 521
cperry@passavant.org
Services & Teams
If you would like to have Therapy Dogs visit your facility, please contact one of the following Therapy Dog Teams or contact Misty Pines to have your facility listed in the above section so that our teams may contact you. Click the link below for teams that are interested in visiting those in need of therapeutic visits from their furry friends:
Pets With Heart, Pet Therapy
Sister Sharon Costello: 724-869-6545
sharon@sisterspettherapy.com