December

7

14




21



24


25

26


28




31

Leash Walking

DownStay Cafe

Agility

Santa Visits Misty Pines

CGC/TDI/Service Dog/Public Access Test Prep

Christmas Eve - Close at 12:00

Christmas - Closed

Holiday Kids & Family Class

Agility

Canine Chiropractic Clinic

New Year's Eve - Close at 12:00
The Holiday Season is upon us and due to Christmas and New Year's Misty Pines will have modified hours on certain days.
Christmas Eve
Tuesday, December 24th | 8a - 12p
Christmas
Wednesday, December 25th | Closed
New Year's Eve
Tuesday, December 31st | 8a - 12p
New Year's Day
Wednesday, January 1st | Closed
Canine Chiropractic Clinic
Saturday, December 28th, 2013
Saturday, January 18th, 2014
Saturday, February 15th, 2014
12:00 - 3:00p
Initial evaluation: $50 (includes adjustment)
Sessions after initial evaluation: $40
Subsequent dogs in same family: $30 for Initial Eval + adjustment, $20 per session after Initial Eval
The clinic will be held by Dr. Shannon Thieroff, owner and founder of Choice Chiropractic, which has three offices in the North Hills for human patients.
Is this clinic only for dogs with a history of health problems? No. Chiropractic services can benefit any dog, and can actually help prevent future health issues.
Appointments will be scheduled every 15 minutes between Noon and 3 pm. Future dates are TBA and will be listed on our website and sent out via e-mail as soon as possible.
To make an appointment, please call Dr. Theiroff at (412)805-6466, or email her at drshannontheiroff@hotmail.com. For more information about Dr. Theiroff, her background and her certification, please visit her website at http://www.choicechiropractic.net/.
For the past 10 years the 17th Street Cafe has been partnering with us in our endeavors to raise money for great causes while providing a high quality dog-friendly dining experience for many of our clients. This year will be no exception.
Join us on Saturday, December 7th when we will be gathering to raise money for the James Fair Animal Care Fund while enjoying a short walk and catered lunch. Read more about James Fair here.
Please visit our Specialty Classes page to read more about the meal choices and to print the registration form for this annual fun event!
Daycare Remodeling and Closure
In order to provide our clients with the best possible facilities, Misty Pines will be extensively remodeling our Daycare yards in the coming months. Beginning November 5, 2013, our Daycare yards will be closed to accommodate a massive renovation.
What does this mean for you?
While we will not have our regular yards available, we will be taking dogs by reservation only to have a kennel for the day. The cost will not change from the usual Daycare rates. We will be offering services such as walks, play ball, agility training, treadmill and treadwheel training, and obedience training for exercise options. Unfortunately, we will not be able to accommodate walk-ins during this time.
The construction is predicted to take 2 months. We will be reaching out to you when construction nears completion to reinstate our regular daycare procedure.
We understand this is an inconvenience to some, but the renovations we are putting into place will be a major improvement. The yards will be featuring leveled yards, artificial grass as the top surface, sky-lit roof over the yards, and 4 foot openings to the outside on top of the four walls to integrate the best of both worlds – indoor protection from the elements while bringing in the outdoor fresh air.
Thank you for your patience and understanding. We look forward to sharing our new and improved Daycare facilities!
Due to a recent change in The Act of December 15, 1986, known as the Rabies Preventionand Control in Domestic Animals and Wildlife Act has been amended. Section 455.8(G) states, "The owner or operator of a boarding kennel, as defined in section 102 of the Dog Law, [FN2] shall require the owner of each dog for which the boarding kennel is taking control to provide proof of an up-to-date rabies vaccination at the time the dog enters the boarding kennel. The proof of vaccination shall be kept on file at the boarding kennel for seven days following the dog's departure from the boarding kennel."
To this end we will now require all dogs to be accompanied by a printed copy of their Rabies vaccination. Originals may be brought but will need to be copied. This change will be for all dogs and for all services. New copies will be required each time your dog receives an update to his or her Rabies vaccination.
To read the entire law please visit TITLE 3 P.S. AGRICULTURE and navigate to Section 455.8(G).
Thank you for your understanding.
Congratulations to our recent graduates! We'll see you all in the next level of classes.
Mark w/Boaz (brit)
Cassandra and Keith w/Charlie (lab)
Sarah Jolley w/Tucker (lab)
Bob & Vicki w/Daphne (blabx)
Tammy w/Piper (rott)
Wendy w/Rosco (lab)
Alex & Janet w/Hilo (blab/mastiff)
Nancy w/Brio (shetland sheepdog)
Ola w/Atlas (gsd)
Carlene w/Emmet (dane)
Susan w/Levi (lab)
Amy w/Darby (lab)
Lisa w/Gander (stabyhoun)
Emily w/Ricky (ldoodle)
Peter w/Gus (mastiff)
Musher's Secret - The Invisible Boot
All Season paw protection for your dog. Made from 100% all natural waxes.
Musher's Secret is a dense, barrier wax that forms a breathable bond with your dog's paws. Developed in Canada for use with sledding dogs, it provides tenacious protection even in the most extreme conditions and temperatures. Now your dog can enjoy the great outdoors along with you. Go jogging, biking, mountain climbing, beach combing, cross-country skiing, mushing or just plain walking with your four-legged friend. Musher's Secret puts a barrier between paws and off road and street hazards, so the trip will be worry-free.
Protect your dog from:
Salt and chemicals
Ice build-up
Snowballing
Sand and sandburn
Hot Pavement
Rough terrain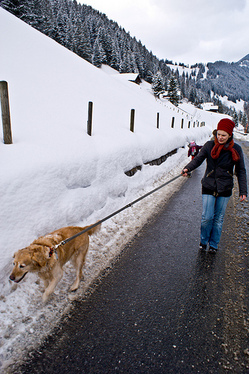 Additionally, Musher's Secret can speed the healing process on existing sores by keeping dirt and debris out of a wound.
Safe and natural
Made from a blend of several food-grade, organic waxes, then refined according to our own special formulations, Musher's Secret is the safe, non-toxic way to protect your dog's paws. The semi-permeable shield is absorbed into the paws, allowing perspiration to excape through the toes.
Easy to use
Apply a thin coat on pads and between toes approximately once a week, depending upon the level of outside exposure.
Dries in seconds
Use weekly, or as needed
Will not stain carpets or furniture
Non-toxic and non-allergenic
Visit our online store to purchase Musher's Secret for your pet!
Filson: For the man who knows clothes
Though we've trimmed our in-store stock we are still your full service Filson dealer and can order any item that Filson carries, except collaboration items. Orders received by December 14th should be able to be picked up at Misty Pines before Christmas, so if you have a Filson man, or woman, on your list be sure to get your orders in soon!
Call the store at 412.364.4122 to find out which Filson items are on sale! As always: Misty Pines has the best prices on ALL Filson items.
From December 2nd till December 26th purchase and fill a stocking in the Misty Pines retail store and you'll receive 15% off the price of the stocking and all the items in the stocking. This offer excludes Class Passes, Lessons and Gift Certificates.
Watch for emails and check our store often as we will have more sales and specials throughout the Holidays.
---
---
Saturday, December 7th @ 8:00 AM

Saturday, December 7th @ 12:00 PM - 3:00 PM

Saturday, December 7th @ 2:30 PM

Saturday, December 14th & 28th @ 8:00 AM

Saturday, December 14th @ 10:00 AM - 2:00 PM

CGC/TDI/Service Dog/Public Access Prep Class

Saturday, December 21st @ 8:00 AM

Holiday Kids and Family Dog Training Class

Thursday, December 26th @ 1:00 PM

Saturday, December 28th @ 12:00 - 3:00 PM

Holiday Kids and Family Dog Training Class

Thursday, January 2nd @ 1:00 - 2:00 PM

Saturday, January 4th @ 8:00 - 9:30 AM

Saturday, January 11th &amp 25th @ 8:00 AM

Sundays beginning, January 12th @ 11:30 AM - 12:30 PM

CGC/TDI/Service Dog/Public Access Prep Class

Saturday, January 18th @ 8:00 AM

Saturday, January 18th @ 12:00 - 3:00 PM
---
Dog Etiquette: Turning Your Dog Into a Gracious Guest
By Karen B. London, PhD
Is your dog ready for the holidays?
Shortly after we were married, my husband and I spent the holidays with my in-laws, and we brought our young dog, Bugsy. He was social; had an excellent stay; came when called; had no history of food thievery; and would not lift his leg indoors, even on a tree, so my confidence in his visiting skills was high.
On arrival, as he occupied himself with a stuffed Kong so we could unpack the car, a possible problem occurred to me. Bugsy often tossed his Kong into the air and ate any treats that flew out of it. In our poor students' apartment, it was endearing, entertaining behavior. But my in-laws' decor included crystal, collectible figurines and an array of china teacups. Racing into the house in a panic, I caught the Kong in midair as it flew toward a set of porcelain miniatures. As I breathed a sigh of relief, it occurred to me that perhaps I had been a bit smug in thinking the trip would be stress-free.
This time of year generates tales of woe associated with bringing dogs to visit friends and relatives, and I get a lot of questions about this issue. Whether or not people fully anticipate the trouble that awaits them, taking a dog into someone else's home for the holidays can cause stress. The best approach for assuaging this seasonal angst is two-pronged: Prepare your dog as much as you can ahead of time with the skills he'll need to succeed during the visit, and make every effort to avoid other situations for which he hasn't been prepared.
The preliminary step, of course, is to request permission to bring him along. Not everyone wants a visiting dog. Even dog lovers appreciate the advance warning that allows them to, for example, put away the Ming vase on display at the precise height of the perpetually swinging tail of your cheerful Great Dane. If your dog is not welcome, don't bring him, or find somewhere else to stay. The strain of a visit with an unwelcome dog can permanently damage relationships. Plus, it's hard on the dog to be Undesirable Number One in an otherwise festive home.
Training is a critical aspect of preparation. The better trained your dog is, the more welcome you will both be as guests. The key skills are to be able to sit, stay, come, leave it, greet politely, and stop barking on cue. It sounds like a long list, but these are also the basics of polite canine citizenship. I also recommend that you teach your dog at least one "show-off" behavior. This can be waiting at the door until told to proceed (easy to teach but impressive to most people) or a trick such as "roll over" or "high five." Anything that makes your dog more charming will help ease tensions in case of a social gaffe. For example, I had a client whose dog jumped up on her father-in-law, but was forgiven immediately when she gave the cue "You goofed," and the dog responded by lying down and covering his face with his paws, as though in embarrassment.
Common host complaints include barking, jumping up on visitors and stealing food. Of course, if he is prone to more serious transgressions such as biting, unmanageable destructive chewing or house-soiling, it is unfair to expect your dog and your hosts to co-exist peacefully, and it may be best not to go a-visiting with him in tow.
Teach your dog the skills he'll need to be a gracious guest. If he's a barker, teach him to stop on cue. Say "enough" the instant he starts to bark, and then put treats right by his nose. Do not let him have the treats until he stops barking. Many dogs quickly learn that quieting down when you say "enough" is a way to get treats. If he jumps up on people, teach him that if he does this, the people will leave, but if he sits, he will get treats and attention. Since the majority of jumpers do so out of an urge to be social, they quickly learn that jumping up makes people go away. They choose to sit instead, which results in the opportunity to socialize and get treats as well.
Even if you prepare ahead of time, there's plenty to do during your visit to make sure that the holiday is remembered as a fun one rather than as the last family holiday to which you were allowed to bring your dog. Exercise, chews, toys and puzzles can minimize behavioral issues such as destructive chewing and counter-surfing, which tend to worsen when dogs are bored or full of pent-up energy. Bring a crate if your dog likes it and your hosts have enough space. Help clean up, especially if the mess involves dog hair or sloppy drinking at the water bowl. Seize the opportunity to put leftovers out of your dog's reach, and volunteer to take out the trash.
As soon as possible after you arrive, practice the skills your dog already knows so that he can learn to do them in new places, too. One of the things that separates professional trainers from novices is that professionals know that training doesn't automatically transfer to new locations. For example, just because your dog has a rock-solid stay in your living room doesn't mean he knows how to respond in the same way in your yard, at the park or at Grandma's house. Even a couple of five-minute training sessions can significantly improve your dog's performance and manners.
Obedience skills aren't the only ones that may drop off away from home. Many dogs who are completely trustworthy when left at home alone are stressed, scared or mischievous when left alone in a new place, all of which can result in house-soiling or the aforementioned destructive chewing or counter-surfing. The change in routine, a new place and additional people may also make dogs more likely to exhibit these unwanted behaviors. Adjust your plans—and expectations—accordingly.
Faux pas may occur, but focusing on prevention will help your dog succeed. Don't set up your highly food-motivated dog to fail by leaving him alone, even for a minute, while the turkey is on the table. If you know your dog has a tendency to find food or shoes, don't put temptation in his way. Make some areas of the house off limits, or use a crate so that your dog never gets the opportunity to display anything but his best behavior.
No matter how things go, send a thank-you note to your hosts, perhaps accompanied by flowers, to express your gratitude that you and your dog were welcomed into their home (and, if necessary, to apologize).
Ideally, holidays are fun, not stressful. With thoughtful preparation and prevention, you can insulate yourself, your dog and your hosts from the dark side of this festive season. You will then be free to focus on the joy of togetherness for everyone, whether they sing "Fa la la la la" or "Bow wow wow wow wow."
---
---
By Misty Pines Dog Park Co.
The holiday season brings excitement and commotion associated with shopping, travel, and other seasonal preparations. In all the activities of the season our beloved pets may be exposed to hazards that are not found other times of the year. As homes fill with holiday spirit, pets may be intrigued by the new sites, smells and tastes. The following are some of the most common health concerns for your pet during the holidays. If you have specific questions regarding any health concern, please contact your veterinarian. It may be difficult to curb your pet's fascination with all those pretty decorations. Child gates can be used across doorways to keep your pet away from the Christmas tree and decorations at times they cannot be watched.
Holiday Lights
Decorative lights are an attraction for pets to chew on. Both indoor and outdoor lights should be carefully examined to ensure safety for your household pets. Electrical shock may occur from defective cords as well as from them chewing on cords. Check cords for any signs of bite marks, loose or frayed wires, proximity to the tree's water supply or evidence of short circuits. Use grounded "3-prong" extension cords and strictly follow manufacturer's guidelines for light usage.

Electrical shock can cause burns, difficulty breathing, abnormal heart rhythm, loss of consciousness, and death. Call a veterinarian immediately if your pet has been injured by electrical shock. Treatment will be most effective if begun soon after the shock. Bubble Lights: They contain a small amount of methylene chloride, which is also found in paint removers. It is a moderately toxic solvent.

Tinsel, Ribbon and other "Shiny" Things
Ribbons, wrapping paper, ornaments, tinsel, and gifts may be appealing "chew toys" that may make your pet sick. There is something about those shiny strands of Christmas tree decor, which drives kitties wild. Although the sight of your cat pawing at the tree may be cute, the ingestion of tinsel can be deadly. Eating tinsel or other string-like items such as ribbon can cause serious damage to the intestine. One end can get stuck while the rest is pulled into the intestine as it contracts; the contractions may cause the ribbon or tinsel to cut through the intestine. If not caught in time, infection of the belly cavity develops and the prognosis for recovery becomes poor. Pets can become ill quickly and symptoms including vomiting, diarrhea, depression, belly pain and sometimes fever.

Angel hair ornaments are a finely spun glass that is toxic and potentially obstructive if ingested. Also be aware that antique or foreign-made ornaments may be decorated with lead-based paint. Eating other holiday decorations can cause signs ranging from mild depression to severe vomiting or diarrhea, depending upon whether or not the foreign body can be passed in the stool or gets stuck along the way. Sometimes foreign bodies stuck in the intestine do not show up on "x-ray" but will trap air in the intestine, which helps your veterinarian make a diagnosis. Surgery is required to remove foreign bodies that do not pass on their own.

Water and other liquids
Even though they have their own water bowl, there is something enticing about other sources of water; whether it's the toilet bowl or the Christmas tree stand. If you add chemicals to the water meant to keep your tree fresh longer, be sure to read the label to make sure it is safe for pets. Stagnant tree water can also contain bacteria, which can lead to vomiting and diarrhea.

Potpourri makes your house smell festive but may be another attraction for pets to drink. Make sure that potpourri pots are covered or otherwise inaccessible to pets.

Snow globes may contain antifreeze, which is extremely toxic to dogs. Very small amounts can be lethal, as little as one teaspoon can be deadly to a cat. If there is an snow globe spill of any kind, send your pet out of the room while you clean up the liquid. Dilute the spot with water and floor cleaner to make sure your dog does not lick these harmful chemicals later.

Overindulgence
Well-intentioned family and friends may share holiday foods with pets causing the pet to develop a upset stomach. Pancreatitis, which is an inflammation of the pancreas can be caused by eating fatty foods. To control excessive food intake by your pets and to meet your guests' desires to feed the pets, have the treats your pets would normally receive and let your guests "treat" the pets.

The following foods are not pet friendly:
Coffee: Contains caffeine which is a stimulant, and depending on the dose ingested, signs may include stimulation, restlessness, increased heart rate, tremors, or seizures.

Macadamia Nuts: Can cause muscular weakness, depression, vomiting, disorientation, tremors, abdominal pain and muscle stiffness. The effects can last 1-3 days.

Grapes and Raisins: Can develop kidney failure if large amounts are ingested of either of them.

Chocolate:Theobromine is the toxic compound found in chocolate. The darker the chocolate, they more toxic it is. Symptoms may appear within 1 to 4 hours of eating and include vomiting, diarrhea, seizures, hyperactivity, increased thirst, urination and heart rate.

Alcohol: Can cause alcohol poisoning. The pet may become weak, severely depressed, and go into a coma.

Yeast dough: Uncooked yeast dough can raise in the stomach and cause severe pain when ingested. It can also cause bloat, vomiting, disorientation and depression. Since the breakdown product of rising dough is alcohol, it can cause alcohol poisoning. Many cases like this require surgical removal of the dough. Even small amounts can be dangerous.

Bones: Cooked bones can splinter and cause intestinal blockages.

Artificial Sweetener Xylitol: Be aware of candy or foods containing the artificial sweetener xylitol, which is now common in a lot of sweets and gums. Side effects can be seen in as little as six minutes after consumption. The pet will become lethargic, weak, have a loss of coordination, seizures, and fall into a coma. Even small amounts of xylitol sweetener can cause a sudden drop in blood sugar, which leads to depression, lack of coordination and seizures.

Some examples of toxic holiday plants
Holly
Amaryllis
Mistletoe
Poinsettia
Christmas cactus, Thanksgiving cactus, Easter cactus
American bittersweet
European bittersweet
Chrysanthemum
Christmas rose
Jerusalem cherry
Autumn crocus
Christmas palm
Christmas orchid
Christmas dagger fern
Mistletoes cactus
Burning bush
Lilies
Extra attention from visiting relatives and friends may be relished by some pets while others seek solitude in their favorite hiding spot. Make sure pets are given some "personal space" if they want to get away from all of the activity. Some pets may respond to all the commotion with a change in behavior including bad behaviors like eliminating in the house. Try spending extra "quality time" with them to assure them that they have not been forgotten.
---
---
Once your dog has passed their Therapy Dog International certification, it's time for the fun to begin. These places are always looking for registered therapy dogs to brighten the day of the patients and residents:
McGuire Memorial
Contact: Susan Matlock 724-843-3400
smatlock@mcguirememorial.org
Excela Health Home Care and Hospice (Westmoreland County)
Contact: Joan Roth, Volunteer Coordinator
724-689-1653
jroth@excelahealth.org
Family Hospice Palliative Care
www.familyhospice.com/
Contact: Pam Tomczak 412-572-8803
Western Pa. Humane Society coordinates visits to multiple locations in the community with volunteers who have Certified Therapy Dogs.
Contact: Joy Kealey
joy.kealey@wpahumane.org.
Odyssey Health Care
Cliff Mine Rd., Pittsburgh
Contact: Barbara Coulter 1-800-861-8584
Condordia of Franklin Park
Contact: Carol Kosela 724-935-1075 ext. 103
VA Hospitals in Pittsburgh
Activities Director: 412-688-6000 ext. 3682
Country Meadows (South Hills)
Activities Director: 412-257-4566
Children's Hospital of Pittsburgh
Volunteer Coordinator: 412-690-6508
Animal Friends also coordinates a Pet Assisted Therapy program that visits multiple locations. To join their therapy group contact:

Ann Cadman: (412) 847-7031
pettherapy@animal-friends.org
Allegheny General Hospital
Jennifer Kopar: 412-359-3067
jkopar@wpahs.org
Tail Waggin Tutors at Baden Library
Laura Bain: 724-869-3960
Heartland Hospice
Barb Kralik, Volunteer Coordinator: 412-919-5617
heartlandvcs@gmail.com
Caring Hospice Services
Brittany Bailey, Volunteer Coordinator: 412-563-3300
bbailey@caringhospice.com
Concordia of Wexford
Michelle Moon: 724-935-1266
Passavant Memorial Homes and Subsidiaries
Colleen Perry, Social Services Coordinator: 412-820-1015 ext. 521
cperry@passavant.org
If you would like to have Therapy Dogs visit your facility, please contact one of the following Therapy Dog Teams or contact Misty Pines to have your facility listed in the above section so that our teams may contact you. The Teams listed below are a small portion of those interested in visiting those in need of therapeutic visits from their furry friends:
Pets With Heart, Pet Therapy
Sister Sharon Costello: 724-869-6545
sharon@sisterspettherapy.com