Dog Boarding Pittsburgh
Dog Boarding
Misty Pines Pet Company offers first class dog boarding accommodations for your family dog. Our state of the art dog kennels are designed for comfort and safety. Each dog kennel has its own Nelson® automatic watering system continuously providing your dog with fresh water . Our canine guests are provided with elevated Kuranda™ beds, music, skylights, air-conditioning, and radiant floor heating inside and out. All dogs have 24-hour access to their own outdoor run that has radiant floor heating and is under a skylight roof to protect them from the weather.
While your dog stays with us they may participate in any number of optional activities. We have options for every dog's demeanor and desire! Group playtimes allow your pet to exercise and play with other social dogs in our outdoor play-yards. Playtimes are offered for one hour, 4 hour, or 8 hour increments. We also make certain yards available for Private Playtimes for those that prefer a quieter experience. There are also solo activities such as walks on our nature trails or play ball time. A favorite for the smaller breeds is cuddle time, 15 minutes of one-on-one attention from our staff. Our senior boarders like this option as well. See below for our menu of activities that your canine companion can participate in while visiting Misty Pines.
We care about your dog!
Due to our commitment to your pets health and safety we require the Rabies, Bordetella (every 6 months) and Distemper vaccinations to be up-to-date for all dogs that visit Misty Pines. Please provide your dog's current vaccinations via e-mail or fax prior to their pre-boarding visit. We may be unable to accept pets with certain medical conditions in order maintain a clean and healthy kennel. Pre-board stays are required for all new dogs who have never boarded at Misty Pines before. We want to take advantage of any opportunity to cut down on the stress put on your dog. Your dog can spend a morning or afternoon with us and have time in a kennel and in the play yard. These pre-board stays help your pet get acquainted with our facility and staff. Please visit our pre-boarding page to learn more about this process.
Misty Pines Pet Company has No Breed Restrictions and No Restrictions on Unaltered Dogs.
Click here to read Dog Boarding Reviews from satisfied customers.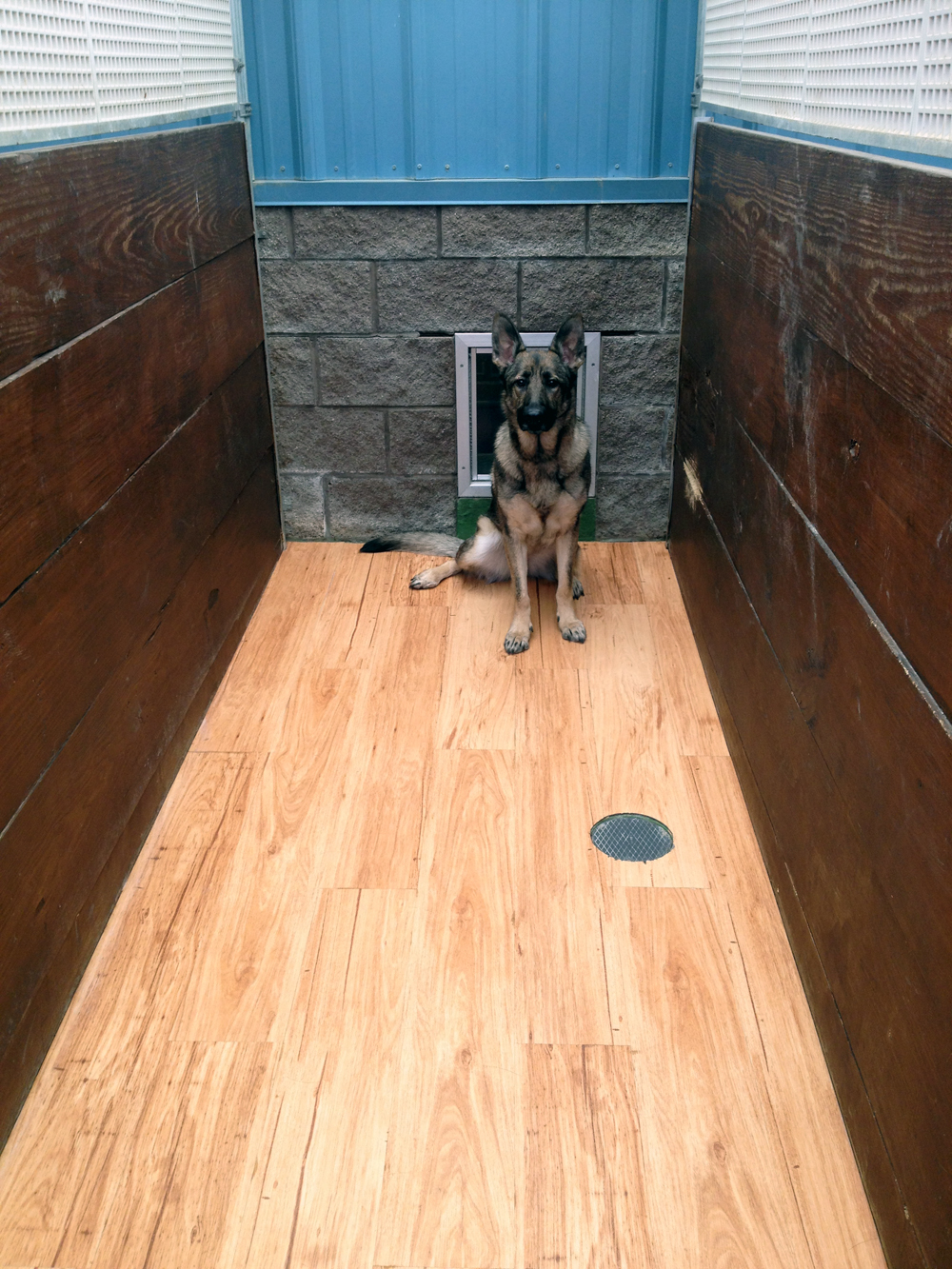 Outside run of a kennel.
---
Dog Boarding Rates
Dogs under 40 lbs:
Dogs 41-80 lbs:
Dogs 81-120 lbs:
Dogs over 120 lbs:
"Difficult Dogs*":

$30 per day
$32 per day
$34 per day
$36 per day
$55 per day

High Season Rates*
Dogs under 40 lbs:
Dogs 41-80 lbs:
Dogs 81-120 lbs:
Dogs over 120 lbs:
"Difficult Dogs*":

$33 per day
$35 per day
$37 per day
$39 per day
$60 per day


Checkout time is 11 a.m.
There will be no charge for the departure day
for dogs checking out by 11 a.m.

High Season Dates for 2017:
April 13th - April 17th
May 26th - September 5th
November 21st - November 28th
December 21st - January 3rd
Daily Routine
Inside a dog kennel with
a Kuranda dog bed.
---
Your dog will have an exciting routine each day during his boarding visit. Our Pet Care Technicians personally greet each pet every morning. Breakfast is served around 8 a.m. We provide Nature's Variety and other high quality, nutritional foods. You may choose to provide your dog's own food in a labeled airtight container. After breakfast, every dog's kennel is cleansed thoroughly inside and out.
Throughout the day, your dog will have the chance to move freely between the indoor and outdoor sections of his/her individual kennel.
Dog Boarding at Misty Pines can be an exciting social experience by taking advantage of our PLAYTIME options. Dogs can run, play, and interact together in a friendly environment. We group dogs together by size, age, and temperament, forming appropriate groups of puppies, adult dogs, or geriatric dogs. Your dog can exercise, mingle, and have fun all day long. We also offer Cuddle Time, Play Ball and Nature Trail Walks.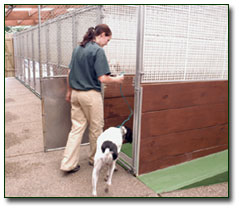 Outside view of dog kennels.
---
After playtime, it is time for your dog to rest in his/her individual dog kennel and have a snack. Treats and toys that the owner supplies can be delivered to each guest at your request during check-in. You may also request training or grooming for your dog at check-in.
Dinner is served around 4 p.m. and then your dog may either relax or exercise in his/her indoor/outdoor kennel.
Our Pet Care Technicians will professionally care for your dog and ensure that he/she is healthy and happy. Remember, we care about your dog too!
Helpful Dog Boarding Tips and Information
• Dog Boarding is a shared responsibility between you and your dog boarding kennel. Successful dog boarding depends not only on the kennel, but also on how well you prepare your dog in advance. Naturally, a dog who is relaxed about boarding will have a good experience and enjoy their stay. The best way to prepare your dog is to begin boarding while it is still young. Younger dogs adapt to new situations quicker than older dogs. It will also help to bring your dog in for short visits in preparation for a long visit.
• We understand that this may be the first time that you are leaving your dog for an extended period of time, but please do not take this opportunity to over-indulge your dog with leftovers before coming to Misty Pines because you feel bad leaving him. Giving your dog unfamiliar food especially in large quantities can cause an upset stomach which can lead to diarrhea and ultimately, an unpleasant experience. Help us to make this the best stay possible for you dog and Don't Give the Dog the Doggy Bag!
• Many dogs get excited and anxious from traveling in the car. They may also feel this way about coming to Misty Pines. Excitement and anxiety often cause dogs to eliminate. There are designated toilet areas outside of our facilities where we have provided Pooper Scoopers for your convenience. Please allow your dog ample time to eliminate before bringing him/her into the office to check-in. Our staff thanks you in advance.
• Plan ahead! Dog boarding is a very popular service, and we tend to book up quickly. Plan to reserve your dog's kennel as soon as you are aware of the dates you need. A credit card will be required for all reservations. We require 5 days notice for cancellations or changes in reservation dates. Without 5 days notice, you will receive a $50 charge.
• Although our office is closed on Sundays for pet check-ins and check-outs, our Pet Care Technicians are present taking great care of our guests!
• You are welcome to request a pre-check-in to expedite the check-in process. Be prepared to supply vaccination records, an emergency number, and instructions for feeding, exercise, training, and grooming.
• Separation from you and being in a new environment can sometimes produce stress in your dog. Stress can result in lowered immunity and resistance and sometimes even temporary changes in behavior. To help reduce this stress, we highly recommend a pre-board stay of at least 4 hours to familiarize your dog with our facility and staff and the sights, sounds and smells of Misty Pines.
• Do not feed your dog at least four hours prior to boarding. This will minimize the possibility of having an upset stomach. Because exercise and eating habits can change, some dogs gain weight while at a kennel, while others may lose a few pounds.
• Please be sure to inform us of any behavior or medical problems that your dog may have such as allergies, medications, separation anxiety, fear of thunder, history of epilepsy, etc. As a dog owner, you should be aware that you are financially responsible for any veterinary care that may be required for your dog. All information which may help us care for your dog is pertinent.
• All dogs must be free of internal and external parasites, and must not have been exposed to any contagious disease. If any fleas are found, your dog must be bathed at your expense. For the sake of all dogs in our care, we reserve the right to deny boarding to any dog lacking the required vaccinations, any dog that appears to be behaviorally unsound or any dog that may have been exposed to contagious disease or internal or external parasites.
**A $1 charge will be applied for administering medications and/or supplements. For example - If your dog takes 2 medications and/or supplements twice a day, you will be charged $4 for that day.
***A credit card will be required to hold all dog boarding reservations. 5 day notice is required for cancellations or changes in the boarding dates. Without sufficient notice, a $50 cancellation fee will be applied.
*Difficult Dogs are those that are not able to be handled by all of our staff. This pertains to those dogs that are human aggressive, fearful, overly dominant or have bitten humans in the past. These dogs will be evaluated on a case by case basis. If you would like to work with Jeff on extinguishing these behaviors before, during or after boarding, please e-mail at info@mistypinespetcompany.com or call at 412.364.4122. For more information please visit our Behavior Consultation page.
Menu Of Activities
1 HOUR PLAYTIME
4 HOURS PLAYTIME (1/2 DAY)
$7
$20
Group playtime gives your dog an opportunity to run, play, socialize and interact with other dogs. Dogs are appropriately grouped based on age, size and temperament.

1 HOUR PLAYTIME FOR NON-NEUTERED MALES
4 HOURS PLAYTIME FOR NON-NEUTERED MALES(1/2 DAY)
$14
$40
Many daycare facilities do not accept unneutered male dogs for group play. Managing the social dynamic created by unneutered males in a large group requires specific skills and carries additional challenges and liability for staff and other dogs. Not all dogs are good candidates for group play. This fee applies to male dogs over the age of 8 months that are not neutered.

1/2 HOUR PRIVATE PLAYTIME
$10
Private yard times are available for dogs that may not interact well with other dogs. Your dog will have a half hour playtime session by themselves with an opportunity to run and sniff on their own.

WALK
$10 / 15 minutes
A Misty Pines Pet Care Technician will spend special one on one time with your dog taking them for a leisurely walk around our park and hiking trails.

CUDDLE TIME
$10 / 15 minutes
A staff member will spend one on one time with your dog. A great option for first time boarders, shy dogs, geriatric dogs and any dog that loves people.

PLAY BALL
$10 / 15 minutes
For the ball chasers and retrievers. A Misty Pines staff member will throw a ball or special toy for your dog to run, fetch and play with.

AGILITY
$15 / 15 minutes
Jumps, Scrambles, and Dog Walks! Your dog will have a blast running and playing on all of our Agility obstacles. If your dog doesn't know how to do an obstacle, we'll teach them.

OBEDIENCE TRAINING SESSION
$40 / 30 minutes or $25 / 15 minutes
The Misty Pines professional trainers will work with your dog on any commands you would like. Some of the most popular requests we address are jumping up, pulling on leash, sit and down, stay and come. Your choices are unlimited. Whatever your need, we can help.

AFTERNOON SNACKS
Kong – Your dog will enjoy a stuffed Kong.
$5 / 15 minutes.
Ice Cream – A cold Sweet Spot for hot days!
$2.50

TREADWHEEL & TREADMILL TRAINING
$15 / 15 minutes
Our conditioning and exercise programs will help get your dog in shape and help him/her stay fit and active. Short sessions throughout the day help with the initial training and give the dog a well deserved break after each 5 minute period.

SWIMMING
$40 / 30 minutes
Half an hour swimming in our Dog Pond with one of our staff members. They can have a session of water retrieving, diving off the dock after retrieving bumpers.

2 WEEK BOOT CAMP
$980
Our professional training staff will provide a structured environment and daily training sessions that will foster learning and growth at a more rapid pace. This is a great way to jump-start training, accelerate to a more advanced level or to correct problem behaviors. Additionally, our pet care technicians will provide all the luxuries of a premiere boarding facility.

Now That Your Dog Is Home
Inside view of dog kennels.
---
When you pick up your dog he will be very excited to see you. Here are some helpful hints to help make the transition back to home as smooth as possible.
Your dog may be a little hoarse due to communicating with other boarding guests. This temporary irritation should dissipate in 1-2 weeks.
When dogs are very excited they tend to drink large amounts of water very quickly which may cause them to vomit. Please pace your dog's water by giving them small amounts at a time or by giving them ice cubes for the first few hours at home.
It is best not to feed your pet for at least 4 hours after he returns home. Excitement can cause a dog to pant heavily which can result in a loss of hydration or loose bowels. If your dog does develop loose bowels, we recommend starting your dog on a bland diet. A bland diet would consist of boiled chicken or hamburger and boiled brown rice. Feed them small amounts of this combination three to four times a day for a couple days. Plain or vanilla yogurt can also be added to this bland diet to help boost up the "good bacteria" in their intestines and stomach. Only use a small amount, no more than 1 Tbs per feeding. Feed the bland diet for a couple of days, and slowly begin to add in their regular diet.
Another remedy is canned pumpkin. Pumpkin, not pumpkin pie filling, not only helps firm up a dog's stools, it can also help when they are constipated. Pureed canned pumpkin contains large amounts of fiber, Vitamins A and C, and beta carotene. The high amount of fiber is a natural binding complex that will absorb the excess liquid that is in the intestines. It will also replace lost electrolytes that they can lose during diarrhea and the vitamins will help hydrate their system with water. Some pet owners report that it firms up their dog's loose stools within a few hours and it only takes a little bit. It is also said to work faster than Kaopectate. Most dogs seem to like the pumpkin and it is easy to administer for their owners. For a dog up to 15 pounds, give them 1-2 tsp. For a dog 15 - 35 pounds, give them 1 - 2 Tbs. For larger dogs, give them 2 - 5 Tbs.
Please call us after you pick up your pet if you have ANY questions whatsoever. As your pet care provider we want to help.
Misty Pines Pet Company Policies and Procedures
To help make your dog's boarding a pleasant and relaxing experience for everyone, Misty Pines has instituted the following procedures:
Pick-up and Drop-off By appointment only.
Mon - Sat: 8 a.m. to 4:30 p.m.
Closed Sundays
5 days notice is required for ANY changes or cancellations. A $50 fee will be applied if 5 days notice is not given.


All dogs must be current on Rabies, Bordetella (Bordetella every 6 months), and DHLPP vaccinations.


A signed Agreement and Terms and Conditions Form must be signed to accept any pet for boarding. Click here for Misty Pines Agree and Terms and Conditions Form


Vaccination Requirements for Boarding and Daycare: All dogs at Misty Pines Pet Company must be current on Rabies, DHLPP, and Bordetella (Bordetella every 6 months) vaccinations. All dogs must have received inoculations at least 5 days prior to their visit to Misty Pines. The waiting period will allow your dog to build optimal immunity to the vaccinations which will make your dog less susceptible to catching or transferring any unwanted viruses. This includes new and updated vaccinations. Your pet cannot be over due for vaccinations - NO EXCEPTIONS. For example, if your pet is scheduled to visit Misty Pines on May 14 and received vaccinations on May 10, we cannot accept your pet due to the insufficient 5 day waiting period. Please fax records to the Misty Pines office at 412-367-7387.

New Requirement for Rabies

Due to a recent change in The Act of December 15, 1986, known as the Rabies Prevention and Control in Domestic Animals and Wildlife Act has been amended. Section 455.8(G) states, "The owner or operator of a boarding kennel, as defined in section 102 of the Dog Law, [FN2] shall require the owner of each dog for which the boarding kennel is taking control to provide proof of an up-to-date rabies vaccination at the time the dog enters the boarding kennel. The proof of vaccination shall be kept on file at the boarding kennel for seven days following the dog's departure from the boarding kennel."

To this end we will now require all dogs to be accompanied by a printed copy of their up-to-date Rabies vaccination. Originals may be brought but will need to be copied. This change will be for all dogs and for all services. New copies will be required each time your dog receives an update to his or her Rabies vaccination.

To read the entire law please visit TITLE 3 P.S. AGRICULTURE and navigate to Section 455.8(G).

Thank you for your understanding.

A credit card will be required to hold all dog boarding reservations. 5 day notice is required for cancellations or changes in the boarding dates. Without sufficient notice, a $50 cancellation fee will be applied.


We provide bedding, food and water dishes, and Nature's Variety and other high quality, nutritional food for all dogs boarding with us.


Blankets, towels, t-shirts, or any bedding from home will not be accepted.


All food must be in a labeled air tight container.


Edible treats and hard or rubber toys are allowed, but we ask that you leave all stuffed toys at home. Please wash all toys before bringing them to Misty Pines. Please label with your pets first and last name.


Be aware that items may be misplaced during your pet's stay. Please label any belongings and keep your dog's favorite possessions at home.


Please be prepared to take your leash and collar with you. We do not need any leashes or tags while your dog is with us.


If you are interested in Dog Boarding, please contact us via our Contact page.


Payment is due upon pickup. We accept cash, check, Visa, MasterCard, and Discover.